Van der Vaart has no regrets
Tottenham star Rafael van der Vaart says he has nothing to prove as he prepares to face former employers Real Madrid.
By Pete O'Rourke - Follow me on Twitter @skysportspeteo
Last Updated: 05/04/11 9:54am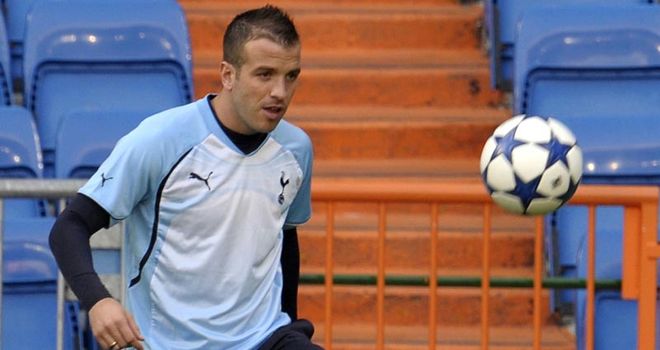 Tottenham star Rafael van der Vaart says he has nothing to prove as he prepares to face former employers Real Madrid.
Van der Vaart arrived at the Bernabeu in 2007 full of promise, but left the club last summer to join Tottenham after falling out of favour with the Spanish giants.
Despite a recent dip in form, the forward has had an impressive debut season in England, racking up 12 goals to help Spurs through to a UEFA Champions League quarter-final date with Jose Mourinho's side.
While the 28-year-old admits he misses life in the Spanish capital at times, he denies that he looks back on his time at Madrid thinking what could have been.
"I don't have bad feelings towards Real or feel like I have to prove them wrong. I'm a Tottenham player now and I want to win." van der Vaart said.
Proud
"I had a great time here. I'm proud to have played for Real Madrid but I left for London and I'm happy there.
"I miss Madrid sometimes. I miss the weather and the lifestyle but I'm really happy at Tottenham. It's a fantastic club and I love the Premier League too."
Van der Vaart has come into conflict with Spurs boss Harry Redknapp recently after he reacted to being substituted against West Ham and AC Milan by walking down the tunnel.
The Holland international has only completed eight games since his £8million transfer last summer, with Redknapp citing a lack of fitness as the main reason why he keeps bringing him off.
But Van der Vaart insists neither his fitness, nor his lack of goals - he has scored only twice for Spurs in 2011 - are a source of concern.
Top shape
"I'm in top shape," he added.
"Some games you play better than the others and the game against Wigan on Saturday was not my best."
Van der Vaart is confident his team can pull off a big shock and dump Madrid out of the competition, feeling they have nothing to lose against the Spanish giants.
"The last few games we didn't play well as a team but when you play against Madrid it's something special," continued Van der Vaart.
"We need a goal to get through and we want to score and attack. My feelings say we have a good chance.
"We did fantastically well to get to the quarter-finals and now we're playing against the biggest team in the world. We have nothing to lose."
Van der Vaart also believes the return of Gareth Bale from injury is a major boost to Spurs' chances of coming away from the Spanish capital with a positive result.
"Gareth is one of our best players," noted Van der Vaart.
"He showed that against [Inter right-back] Maicon. He is the best in the world in his position and he did fantastic against him. Now he is back we have a better chance of winning."