Barton bemused by snub
Newcastle midfielder Joey Barton admits he is bemused as to why he is not involved in the England team.
By Pete O'Rourke - Follow me on Twitter @skysportspeteo
Last Updated: 11/04/11 1:13pm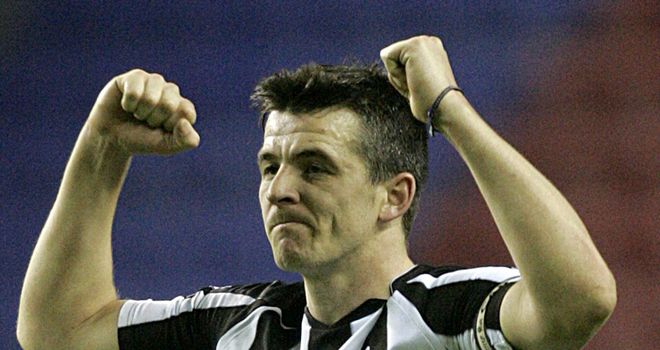 Joey Barton admits he is bemused as to why he is not involved in the England team as he feels he is best English midfielder around.
The Newcastle man has issued a damning verdict on the current England side singling out Manchester City midfielder Gareth Barry for his most fierce criticism.
Barton, who has one England cap to his name, has been continually overlooked by England boss Fabio Capello despite his impressive form for the Magpies this season.
The former Manchester City player admits he would love to add to the cap picked up against Spain in 2007, but believes his past misdeameanours are counting against him.
"Honestly, I think I'm the best [English midfielder]," Barton told the French magazine So Foot.
"Luka Modric and Samir Nasri are very good, but in terms of English players... well, Jack Wilshere isn't bad, but Frank Lampard's on the way down and Steven Gerrard's been injured a lot."
Problem
"I'm English and I love playing for my country. "Maybe the people at the top have a problem with me. I don't know. But the trouble I had was four years ago. They should be able to forgive, shouldn't they?"
Barton saved his most withering remarks for Barry, who captained England in last week's friendly with Ghana. "Did you see the game against Germany at the World Cup?" asked Barton.
"If you watch the fourth goal, when [Mesut] Ozil was up against Barry, it was like the hare and the tortoise.
"Barry's got a very good agent," Barton indicated as the reason for the player's success. "He's also discreet and always agrees with the manager.
"He's like the guy who sits in the front row and listens to the teacher. I certainly don't lose any sleep when I play against him."
Tradition
The 28-year-old believes England are stuck in the past and that if they do not change their approach they will never win the World Cup again.
"We English will play the next 50 World Cups and we'll never win one," added Barton. "The people in charge at the FA played football maybe 50 or 60 years ago and still think that we can win a World Cup in the same way we did in 1966.
"We're too focused on tradition in England, like always having to play 4-4-2. Sometimes you need to experiment, drop a bit deeper so you have more space to move into.
"France, Italy and Germany have done it. We've been doing the same thing for 20 years."