Luiz loving Chelsea life
Brazilian defender David Luiz says he is living the dream and loving life at new club Chelsea.
Last Updated: 09/04/11 12:17pm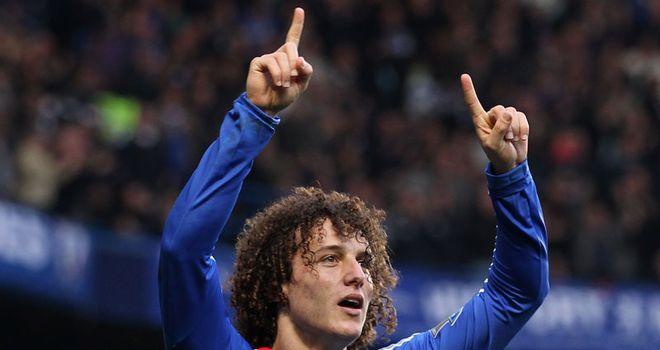 David Luiz says he is living the dream and loving life at new club Chelsea.
The Brazil international has made an immediate impact since arriving at Stamford Bridge from Benfica in the January transfer window.
The 23-year-old defender has already lifted the Premier League Player of the Month award for February and says he is delighted to be plying his trade in England.
He told The Independent: "I am very happy. Happy to be in the best league in the world and playing well.
"I think the dedication I show on the pitch has always meant that I have that connection with the fans. I work hard when I am out there and that means I get through to the fans, I feel that connection with them.
"Coming to England has been very good for me. It is a very developed country and London is the kind of city that anybody would want to live in.
"Chelsea have done a lot for me and made it easy just to focus on the football even though I have arrived halfway through the season and I am still looking for a place to live. The most important thing is to help Chelsea in the competition I can play in.
"It is frustrating not being able to play in the Champions League because every player loves to be involved but I feel involved during the week when I train with my colleagues. I try to motivate them and I give them support."
Not complacent
Luiz is not complacent about his life as a footballer, especially after his father Ladislau, who was a promising player, had to quit because he needed to earn money to look after Luiz's grandmother.
"My father said to me that he had to give up on his dream so that we could live as a family. He was a very good player, better than me," said Luiz.
To achieve his dream, the Chelsea star had to leave home aged 14 when his local club Sao Paulo rejected him for being too small.
He went to Esporte Clube Vitoria in the city of Salvador and after breaking into their first team as an 18-year-old, he then switched to Benfica two years later.
Luiz added: "I left home when I was 14 to go to Salvador and I didn't see my family until I was 16, but my parents always taught me that there is a right way and a wrong way and that I have to make a choice between the two. I have always been happy with the decisions that I make.
"I also believe everything happens for a reason. I believe in God. When the offer came from Chelsea I felt it was right. I had lots of offers from a lot of clubs but I never felt the same way about them as I did about Chelsea."