Crouch targets fourth spot
Peter Crouch has urged Tottenham to keep the pressure on Man City in the race for a top-four finish.
Last Updated: 11/04/11 8:32am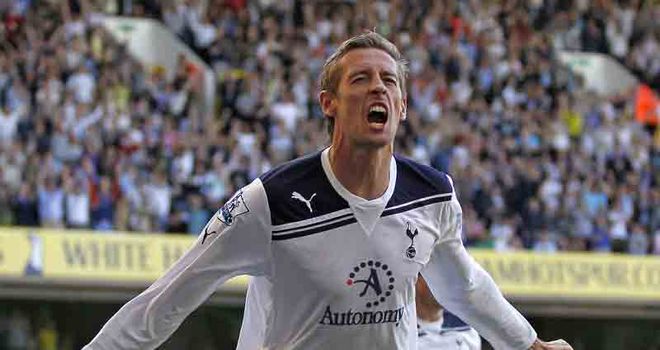 Peter Crouch has urged Tottenham to keep the pressure on Manchester City in the race for a top-four finish.
Spurs closed to within three points of Roberto Mancini's men courtesy of a 3-2 victory over Stoke at the weekend, with City travelling to fellow European hopefuls Liverpool on Monday night.
Crouch scored twice to ease the disappointment of being sent off in last Tuesday's 4-0 UEFA Champions League defeat against Real Madrid.
Tottenham's European adventure is therefore set to come to an end, barring a miraculous comeback in the second leg at White Hart Lane, but Crouch is determined to qualify for next season's competition.
The striker feels Spurs can finish fourth in the Premier League and has identified the clash with City on 10th May as a crucial fixture.
"Even before what happened in Madrid this game was massive for us because we want to be back in the Champions League next season," Crouch said about the Stoke win.
"It's been exciting, we've proved ourselves, shown we can play at that level and now we need to start putting pressure on teams like Man City and making sure we get in next season. We can definitely do it.
Underdogs
"There's enough ability, enough belief and we've enough games. We've got Manchester City again at their place so it could be another pivotal game.
"Last season, no one believed we could get there and it's probably the same this season.
"We've dropped a few points, we maybe feel like the underdogs and I think a lot of people don't believe we can do it.
"Man City have been in there for most of the season, Liverpool aren't too far away and we've got to make sure we keep on our game."
Crouch was pleased with Tottenham's performance on Saturday but admits the Potters made life difficult.
He said: "I think we played some good stuff in the first half, I thought it was going to be easier than it was and credit to Stoke, but we fully deserved the result."