Jones glad to end drought
Kenwyne Jones has admitted it was a relief to get back on the goal trail in Stoke's defeat to Tottenham.
Last Updated: 11/04/11 2:03pm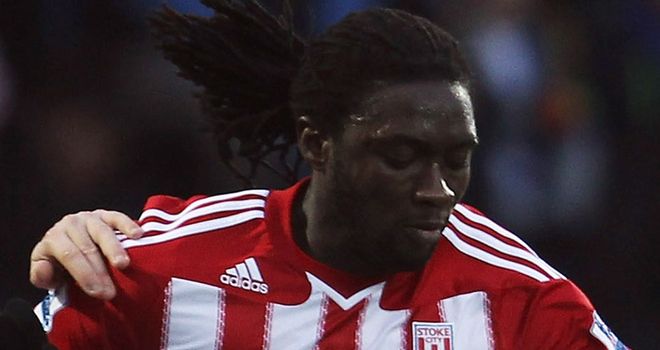 Kenwyne Jones has admitted it was a relief to get back on the goal trail in Stoke's defeat to Tottenham on Saturday.
The striker had gone 13 games without finding the net prior to the weekend, although he had still been contributing with some impressive performances.
The drought finally ended with a spectacular strike into the top corner as the Potters went down 3-2 at White Hart Lane.
"It's been a long time coming," the Trinidad & Tobago international said in The Sentinel.
"My performances have been pretty decent for a while, it is just that I haven't been getting the chances to score. I was part of making goals and not scoring them, but thankfully I got one here.
"Helping make goals is not necessarily enough. Any striker will tell you they want to be there at the end scoring goals rather than making them. But we have been winning and getting good results, so at least I could take some satisfaction from that.
"At the start of the season, no matter what I hit, it was going in.
"Then I got half-chances I thought might go in, but didn't, and it seemed to go downhill from there. But my performances have been picking up for the last six weeks or so."
Paid the price
Jones could not savour his goal as much as he would have liked, though, coming as it did in a losing cause.
Stoke put Spurs under pressure for long periods in the closing stages and he believes their second-half performance merited a point.
Jones reflected: "In the end we were unfortunate. After the second half, we deserved at least a point, but I am not too sure about from the first half.
"We gave away three goals basically by not really getting in their faces. We paid the price for that in the end.
"We gave them way too much respect in the first half. In the second we were the better side, created more chances, and basically ran the game.
"But you give yourselves some hard work to do when you give away goals like that and don't start properly.
"We haven't done that for a long time, but in this game we paid the price."
Different game
Jones does not think the result or performance at Tottenham will have any bearing on how Stoke approach their FA Cup semi-final against Bolton next Sunday.
He added: "Sunday will be a different game and the better team that shows up and puts their front foot forward will win. We can't look back on this.
"It is my first semi-final and the club's first for 39 years, so I am looking forward to it. It will be my first game at Wembley, but it is more about the game than the occasion.
"Over the season, we have acquitted ourselves well. But it will just be about who is the best team on the day."