Lehmann eyes title push
Arsenal's comeback keeper Jens Lehmann claims there is still hope for his side in the title race.
Last Updated: 11/04/11 4:12pm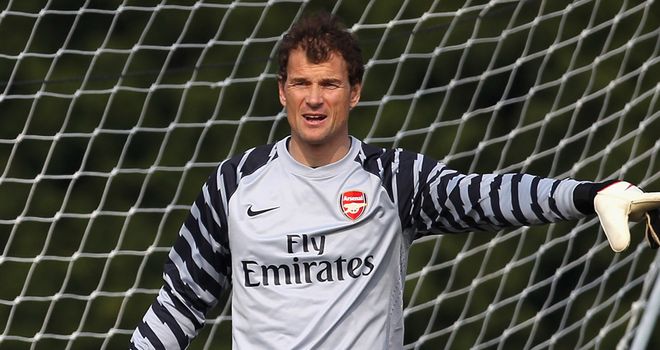 Arsenal's comeback goalkeeper Jens Lehmann claims there is still hope for his side in the Premier League title race.
The Gunners shot-stopper made a surprise return to Arsene Wenger's team on Sunday afternoon for the 3-1 victory over Blackpool at Bloomfield Road.
Manuel Almunia suffered an injury in the warm-up and the veteran German stepped in between the sticks, almost three years after he had last played for Arsenal.
The 41-year-old admits it will be tough to gun down league-leaders Manchester United but insists it is not over yet.
"They are only four points ahead when we win our game in hand," Lehmann said.
"Look at me - you never know what is going to happen in life.
"Manchester is a good team but they have to play in a lot of competitions in the next week.
"I know from my own experience how exhausting that can be."
Ready and willing
The North Londoners are now assessing Almunia's fitness after what is believed to be a minor knee injury but Lehmann, who won the title with the Londoners in 2004, is ready to play again if required.
"If it was my last game ever I am happy because we won, but let's wait and see what is going on," he added.
"I love playing football and when you finish it is a little bit boring because you don't have the adrenaline anymore.
"That is what came back to me and I am quite happy about it.
"I was quite surprised - I thought Manuel was playing and all of a sudden he picked up an injury.
"He [Wenger] told me I had to play. I couldn't really think about it. I couldn't afford to be nervous and I just played."
Arsenal have yet to play United at the Emirates and their next game is against Liverpool at home on Sunday.