Gomes counting on miracle
Heurelho Gomes is hoping to lead Spurs to the second 'miraculous' comeback of his career against Real Madrid.
Last Updated: 12/04/11 6:57am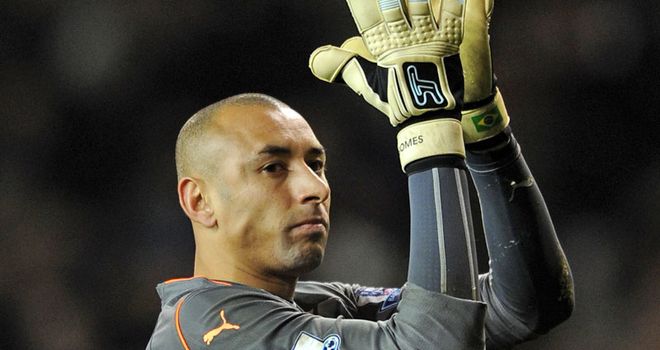 Heurelho Gomes is hoping to lead Tottenham to the second 'miraculous' comeback of his career against Real Madrid.
Spurs are on the edge of a UEFA Champions League exit after they were thrashed 4-0 by Real in the first leg of their quarter-final tie at the Bernabeu last week.
The North Londoners recovered from a three-goal deficit against Young Boys in the qualifying stage and almost completed a similar revival against Inter Milan in the San Siro in the group stages.
But they have a real mountain to climb against the Spanish giants at White Hart Lane on Wednesday if they want to progress to the last four.
Gomes, a poor performer in Madrid, experienced a thrilling climax to the 2006-07 season with former club PSV Eindhoven, who started the final matchday in third place but won the Eredivisie thanks to a 5-1 victory over Vitesse Arnhem.
And the goalkeeper is confident he and his team-mates can pull off a similar shock at the Lane to reach the semi-finals.
Character
"We have shown a lot of character before to come back from difficult situations and I think we can show it again, so why can't we win it and go through?" said Gomes.
"At PSV in the 2006-7 season, it was the last game of the season, and, if we beat Vitesse at home, by five goals, we'd win the competition.
"We won 5-1 and Ajax only won 3-0 so we won the league on goal difference by one goal.
"We won the title when no-one thought we could do it. Miracles can happen."
Harry Redknapp's side have tough Premier League matches against Arsenal, Manchester City, Liverpool and Chelsea looming, but Gomes insists the club can secure a Champions League spot for the second consecutive year.
"We love playing in the Champions League. It is a massive competition," he said.
"We have beaten the top teams before and we can do it again. To finish in the top four we need to beat them."