Rooney delighted with form
Manchester United star Wayne Rooney insists he has been delighted with his form this year and has praised Ryan Giggs and Paul Scholes.
By Graeme Bailey - Follow me on Twitter @graemebailey
Last Updated: 13/04/11 1:45pm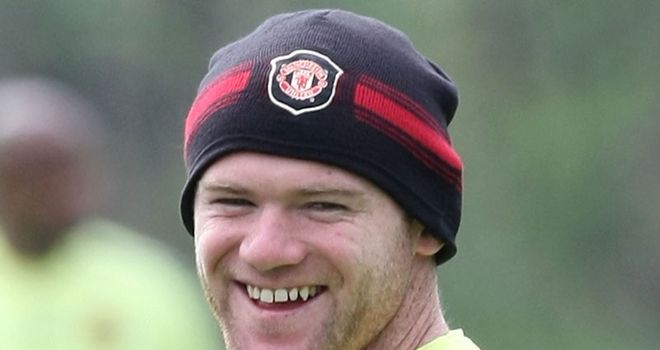 Manchester United star Wayne Rooney insists he has been delighted with his form this year.
After enduring a tough start to the season, which saw him ask for a transfer before signing a new contract extension, Rooney has now hit form.
He has scored 10 goals in his last 13 games for United - who are still aiming at the Treble this season.
"I am delighted, everyone clearly knows it has been a tough year, tough season but since the turn of the year it has been good," he told TALKsport.
"I am playing a different position, getting on the ball and dictating the game."
Rooney has emerged as one of the top creators in the Premier League with 11 assists, and he admits he loves providing goals just as much as scoring them.
"I have always said to create goals is great, to give your team-mates the chance - I am the first one to say thanks when they create and so it is great."
Rooney misses this weekend's FA Cup semi-final clash with rivals Manchester City after his swearing outburst at West Ham United saw him pick up a two-match ban.
He maintains he was in the wrong, although he is desperately disappointed to be missing a trip to Wembley.
Emotion
"Of course, don't get me wrong with the swearing I didn't realise what I had done it was just emotion being realised scoring three goals," he said.
"But as soon as I realised I apologised and it was wrong of me, and I accept my punishment but hopefully the boys will move on and get to the final for me."
Rooney also praised his team-mates after they booked their place in the UEFA Champions League semi-finals after victory over Chelsea.
"It was a great performance from the lads and over the two legs I think we deserved the victory and I think we have a good chance of progressing to the final," he said.
"I think over the course of the season the manager has thrown the young lads in and we are progressing as a team and I think the season looks good."
He also again paid tribute to United's legendary duo Ryan Giggs and Paul Scholes.
"It is incredible what he has done and it is fantastic to play with him. He is a genius and it won't be long before we are calling him Sir Ryan in my opinion," said Rooney on Giggs.
"[Scholes] He is the same, the best footballer I have ever played with, everything about him is world class."