Higginbotham on hand for Stoke
Injured Danny Higginbotham will offer Stoke City his support from the Wembley touchline on Sunday.
Last Updated: 13/04/11 11:30am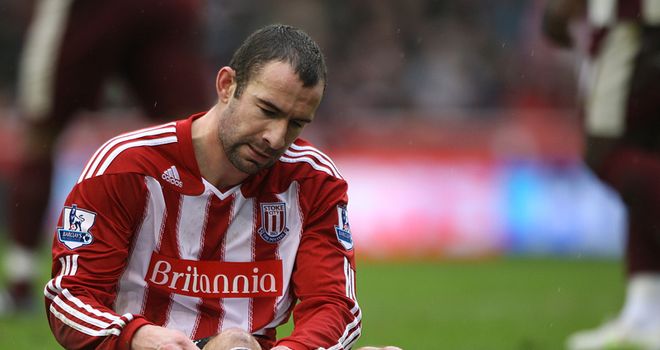 Injured Danny Higginbotham will offer Stoke City his support from the Wembley touchline on Sunday, but admits it will be tough not to be involved on the pitch.
The defender scored the FA Cup quarter-final goal which granted the Potters a last-four place against Bolton, only to be denied a first Wembley appearance through injury.
Higginbotham, who was an unused substitute in Southampton's FA Cup final defeat by Arsenal in 2003, suffered cruciate ligament damage against Chelsea earlier this month.
The injury rules the defender out for around six months, but manager Tony Pulis still wants Higginbotham to be a part of his squad and the 32-year-old has answered the call.
"The gaffer really wants me to be there around the lads," Higginbotham told The Sentinel.
"I wasn't 100 per cent sure, but I think I will look back and realise it was the right thing to be among them.
"Anything I can do to help the lads out, I'll do it because it's not about me.
"It won't be easy watching the game because I've been 15 years a pro and the opportunity to play at Wembley doesn't come along very often.
"But I'm desperate for us to win - and no-one would be happier than me if we do and get to the final."
Higginbotham suffered the injury in a somewhat innocuous collision with Petr Cech but, despite playing on for the final few minutes, he reckons the damage had already been done.
'Gutted'
He added: "I was just gutted, but at least there is no looking back on the incident and saying I could have done something different to avoid the injury.
"My knee has straightened in the ground and unfortunately the keeper has caught me slightly on the outside of my shin to turn the knee the wrong way.
"It's amazing how you can walk away from full-blooded tackles, but then see how many players are injured like this.
"I played on, but the damage was already done by then so it made no difference.
"I've just got to get my head round it now. You know you are going to get injuries, but the cruciate is the one everyone wants to avoid.
"They say everything happens for a reason in life and maybe, in the future, I will see what the reason was.
"I'm only human, so there will be times when I feel sorry for myself, but I also know my life is generally good and there are lots of people a lot worse off than me."
The former Manchester United player will go under the knife on 27th April but he is braced for a lengthy spell of rehabilitation.
"The surgeon says that from the day of the operation you are looking at six to eight months out. I'm not on crutches at the moment, but I soon will be again and I know I have a tough rehabilitation ahead.
"But at least after I have the op our physios will be able to set targets, which will help me along the road to recovery."