Odemwingie backs Torres
West Brom's Peter Odemwingie feels for Fernando Torres and has backed him to break his duck soon.
Last Updated: 16/04/11 12:51pm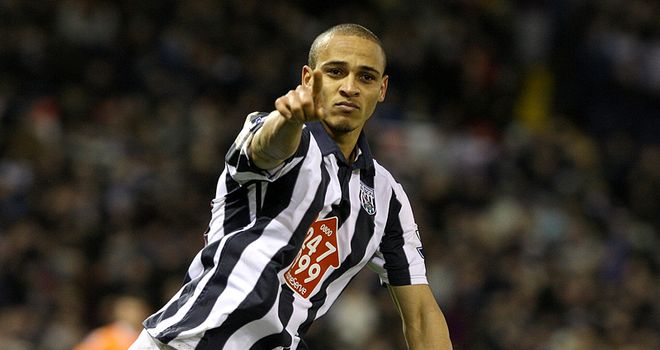 West Brom forward Peter Odemwingie admits that he feels for Chelsea striker Fernando Torres and has backed him to break his duck soon.
The Nigerian cost a mere £2million at the end of August - £48million less than his Spanish counterpart - when he moved from Lokomotiv Moscow to The Hawthorns.
Odemwingie has gone on to be one of the Baggies' stars of the season, scoring 10 goals in the Premier League - one more than Torres, who joined Chelsea on January transfer deadline day from Liverpool in a British transfer record.
The 29-year-old was in a pub back in Nigeria when West Brom met Chelsea on the first day of the season, as the champions romped to a 6-0 home win.
But as the Blues head to The Hawthorns on Saturday, West Brom are in fine form under new boss Roy Hodgson, and Odemwingie is understanding of the plight Torres is in.
"I was there with my Nigerian friends. Lots of people were saying it was relegation for West Brom, but I thought I could add something up front." said Odemwingie.
"I am watching how Torres is dealing with this pressure.
"It will be the first time he has ever had this. I understand what he is feeling.
"(Wayne) Rooney had it too. He came out of it. Torres will be back, but for now you think everything is against you.
"When it happened to me I started thinking, 'what could be the thing?'
"There might be something outside of football that is causing this, but Torres is the only one that knows.
World champion
"Torres is a world champion, he has played at big clubs, he is one of the best in the world. He should just keep that in mind.
"We all say when the dry spell comes that we don't worry about it. But we do. For me, it was in my head all the time. I am a 'self-eater' as they say in Russia."
Odemwingie also feels that Torres needs more support from his team-mates, and that they need to help take the ever-growing pressure off him as each goalless game goes by.
"Torres needs his team-mates to encourage him now, while he thinks, 'I hope, I hope, I hope it ends today'," he added.
"I hope Torres doesn't go to his holidays like this, I hope he gets some goals so that he won't do next pre-season with his head down.
"What Torres needs is his team-mates supporting him. In one game for West Brom there was a negative comment towards me from a team-mate for not passing.
"So next time I passed when I should have shot. We had a little issue about it and from that point my colleagues have encouraged me."