Brunt backs Baggies to stay up
West Brom skipper Chris Brunt has backed the club to stay in the top flight under manager Roy Hodgson.
Last Updated: 16/04/11 1:07pm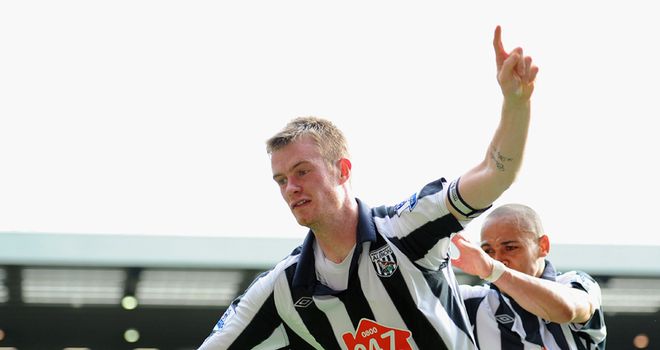 West Brom skipper Chris Brunt has backed the club to stay in the top flight under manager Roy Hodgson.
Brunt believes the Baggies' status as a yo-yo club will end this season under the guidance of Hodgson.
The Northern Ireland international knows that despite Hodgson becoming the club's third manager in under two years after Tony Mowbray and Roberto Di Matteo, there is now a new sense of stability.
Building
He told the Daily Mail: "There's a lot made of the yo-yo club. But we weren't far off staying up last time and this year we've added a few players, building towards becoming a solid Premier League club.
"A lot of clubs are struggling financially, but West Brom won't because we are so well run.
"People want instant success but if there's a blueprint of how to do it gradually and become a healthy Premier League club, then West Brom deserve to be looked at.
"If we stay in the Premier League it'll be a great success for the club, because in the last 10 years it's something we've failed to do.
"It'd be better than the two promotions I've been involved in. I'd be very proud. We'd deserve our holiday."
And Brunt admits to being a fan of the new man in charge, saying: "He sees everything, does not miss a thing.
"He makes you think, gives you ideas.
"There's positional elements he's made us think about, he's made us think more about ourselves as a unit.
"If you ask the lads, they'll all say that. He's just so good at his job."
Lessons
Brunt is keen to avenge West Brom's opening day hammering against Chelsea, when the two sides meet at the Hawthorns.
The Black Country outfit were crushed 6-0 at Stamford Bridge that day, but the club are unbeaten in seven games since Roy Hodgson succeeded Di Matteo and are seven points above third-bottom West Ham.
The 26-year-old admits the club learned their lessons, saying: "We got what everyone expected that day at Chelsea.
"We showed a lot of naivety. The first three goals we conceded were all avoidable. You give yourself no chance.
"But we took some positives because we played some decent stuff.
"Admittedly, we weren't working Petr Cech too hard, and we showed our Achilles' heel.
"But we picked ourselves up. We then beat Sunderland."