Bent pleased with progress
Darren Bent believes Aston Villa are heading in the right direction following another welcome victory.
Last Updated: 17/04/11 9:02am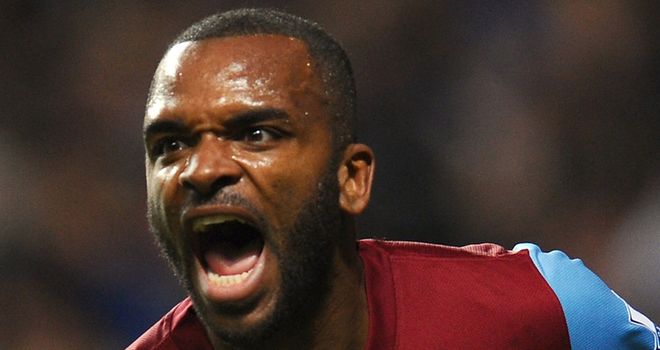 Darren Bent believes Aston Villa are heading in the right direction following another welcome victory.
A 2-1 win at West Ham on Saturday has seen Villa climb into the top half of the Premier League table and end any lingering relegation fears.
The club could still theoretically be dragged back into the basement battle, but a three-match unbeaten run has helped them to edge clear of danger.
Bent, who was on target against the Hammers, is pleased with the progress being made at Villa Park and is confident the momentum they have established can be maintained.
He told Sky Sports: "We are going in the right direction. I wouldn't say that we are safe yet because there still a lot of sides in and around us that are fighting for their lives. We have still got some difficult games but we believe in each other and believe in the manager.
"If we keep playing the way we are, and showing the performances that we are, then there is no reason why we can't get out of it."
Bent admits that it is about time that Villa turned their season around, with the club having spent too long looking anxiously over their shoulder.
Heart
He added: "It is difficult sometimes to see why Aston Villa Football Club are in this predicament. But it's all well and good being a good football team and playing good football, but sometimes you have to show fight and heart, and that's what we are doing at the moment. I think we are showing those things at the right stage of the season.
"There are a lot of teams around us that would give anything to play like we are at the moment. We have just got to keep doing that."
Bent was drafted in by Gerard Houllier in January to provide goals and he grabbed his sixth for the club at Upton Park.
He could have had even more had some contentious decisions not gone against him, with another seemingly legitimate header chalked off against the Hammers.
"It's becoming a habit," said Bent.
"I had a goal ruled out last week that wasn't offside. A couple of weeks before that, the same thing. And today a powerful header but it's been flagged again.
"You think is it me, is it me. But Luke Young put another great ball in and I managed to get across and finish the second one off."