Houllier - Bent is England key
Aston Villa boss Gerard Houllier has backed Darren Bent to become a key part of England's Euro 2012 campaign.
Last Updated: 17/04/11 7:37pm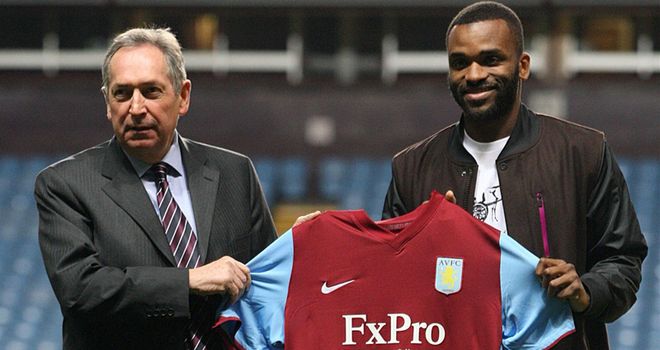 Aston Villa boss Gerard Houllier has backed Darren Bent to become a key part of England's Euro 2012 campaign.
The Frenchman was delighted with the striker's performance as he helped Villa towards safety with the first goal in a 2-1 victory over West Ham on Saturday.
Bent bagged his sixth goal in 11 games at Upton Park since his arrival from Sunderland in January.
And Houllier believes he is capable of producing the same kind of stats at international level, if he is given more playing time.
Bent has scored three goals in nine games for his country including a goal for England in their European Championships qualifying victory against Wales.
Step up
The Villa boss said: "I think he will step up now. He is gradually now providing international performances.
"I always think there are three levels. There is Premier League level, international level and world class.
"The first aim is to be a regular international. He's improved and Fabio Capello probably saw that."
Houllier is adamant that Bent has been value for money as the likes of Fernando Torres and Edin Dzeko have all struggled to establish themselves after big money January moves.
"He came to the club and gave us all a lift. It was important to take someone who knew the English game. We knew exactly what we were expecting from him," he said.
"His work-rate is phenomenal. His movement is fantastic. He's not only a good player but a good lad as well.
"I probably (rate him higher) than many people because he's not spectacular but he's so clinical in his finish.
"The one I liken him to, who was a lethal finisher as well, is Robbie Fowler. He was clinical like that. Instinctive. Every single training, he scores."
Rally
The Villa boss has asked his side to rally in the final few games of the season and although they have 40 points, Houllier will not rest until they have at least one more win.
"I must give credit to their character because that is what we need when we are in a fight against relegation, you need character and you need composure.
"The turning point is probably the short meeting we had together before the Everton game.
"We just said we were starting a new league, of just three games. In those we have picked up seven points.
"More importantly, we have come back twice in those games from going behind. So it could be a turning point.
"Before this game we said two more wins and a draw, which would be 44 points. But we've got to keep the momentum. That's the most important thing.
"The fighting spirit is for me the base. Whatever the talent you need to work and fight. This league is extremely competitive.
"It's never finished right until the end. Some teams would have been happy to have a point here and just tried to keep it. But we went for the three points."