Kalou keeps up the fight
Chelsea's Salomon Kalou says the Blues will continue to fight for beleaguered boss Carlo Ancelotti.
Last Updated: 18/04/11 11:53am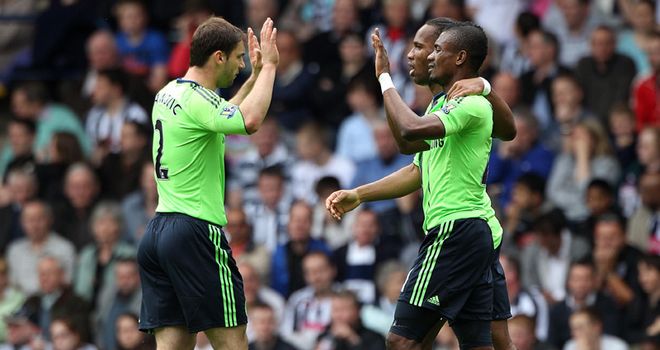 Chelsea's Salomon Kalou says the Blues will continue to fight for beleaguered boss Carlo Ancelotti.
There is intense speculation the Italian will be on his way out of Stamford Bridge this summer as the Blues look set to win no silverware this term.
But Kalou insists the players will continue to battle for Ancelotti as they seek to secure UEFA Champions League football for next season.
That certainly appeared to be the case at the weekend when Chelsea showed their mettle after going a goal down at West Brom to win 3-1 and close the gap to leaders Manchester United to eight points.
Kalou, who scored Chelsea's second at The Hawthorns, said: "The main concern is we are together as a team.
"We win as a team, we lose as a team, and in this game we showed good character, the real face of Chelsea.
"It is the Chelsea everyone wants to see, a team that goes out on the pitch and plays hard, that plays with each other.
"After our defeat to Manchester United on Tuesday (in the quarter final of the UEFA Champions League) this was a good response.
Fighting
"We showed that we're fighting for ourselves, for the team, also for the manager.
"It would be easy to point to someone and say it's his fault. The game is about the squad, and everyone has to be concerned about that.
"Everyone has to be professional, and when they go on the pitch to enjoy playing and fighting hard for the club and for the fans who travel far to come and support us.
"It is very important we show them respect by playing hard and giving everything we can."
Kalou said the Blues are enjoying their football under Ancelotti.
"As a player you want the team to do well, so you play with the direction the manager gives you, and right now we are enjoying," he added.
"In the first half we played with a lot of passion, even though we conceded the first goal, and I think everyone then thought it was going to be a difficult day for us.
"But we played together, and when you play like that, it is easy to win.
"We now have six games to go and we have to maintain this spirit, which is the only way to qualify for the Champions League because we know everything is in our hands.
"So we have to play our part by winning our games, and it's still between the top three."