Van der Sar expects response
Man United goalkeeper Edwin van der Sar insists the Red Devils will pick themselves up against Newcastle.
Last Updated: 18/04/11 4:10pm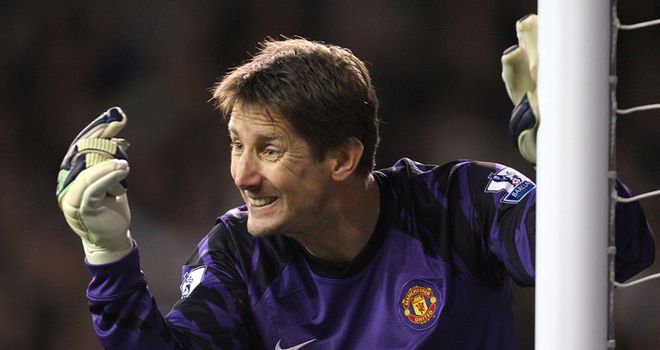 Manchester United goalkeeper Edwin van der Sar insists the Red Devils will pick themselves up against Newcastle on Tuesday night.
United make the trip to Tyneside for a Premier League clash at St James' Park, just days after their FA Cup defeat to rivals Manchester City at Wembley.
Sir Alex Ferguson's men were undone by a Yaya Toure strike as dreams of a treble went out of the window, although they are still in an excellent position in the league.
Following Arsenal's draw against Liverpool on Sunday, United are currently six points clear of the Gunners and Van der Sar is targeting a response at Newcastle.
"It won't be difficult to pick ourselves up," he said.
"We know how important the league is. We are in first position, so we just have to make the best of it.
"We were a little bit tired (on Saturday). The pace of our game was not quick enough.
"We have played a big number of games in the last three or four weeks and against Newcastle we must do better."
Prior to Saturday, United had won six games on the trot and now only need 13 points from their remaining six games to be assured of the title.
"It is always nicer when you find form straight away," added Van der Sar.
Scrappy
"We were a bit scrappy in the first half of the season and conceded some last-minute goals that cost us a few points.
"When things like that happen, it doesn't do your self-confidence a lot of good.
"On the positive side, you need mental strength in certain games when you keep conceding in the last minute or the ball is not going in.
"It shows the strength of character and the belief this manager has in the quality of his team that we were able to come through those moments."
The 40-year-old shot-stopper continued: "You get confidence when you get on a roll.
"When you are not struggling and you get your players back it is bound to make everyone feel better about themselves.
"There are goals in the team too and defensively we are sound.
"No one likes to lose at any time but in general, there is a good feeling about how things are going."