Maloney glad to be back
Shaun Maloney admitted it was a huge relief just to play for Celtic on Sunday - let alone to score.
By Ben Collins
Last Updated: 18/04/11 6:06pm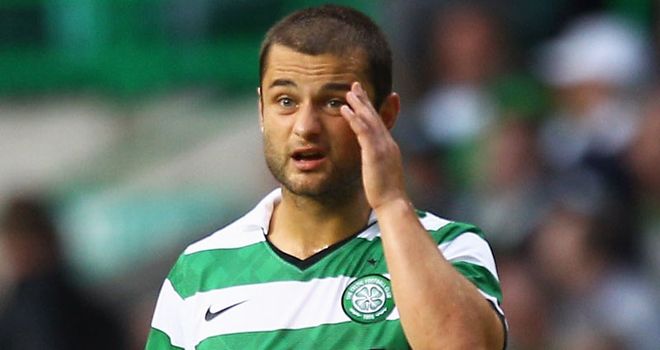 Shaun Maloney admitted it was a huge relief just to play in Sunday's Scottish Cup semi-final - let alone get on the scoresheet.
The Celtic striker had feared his season was over just last month after undergoing ankle surgery.
But the Scotland international managed to return from a four-month lay-off earlier this month and scored his first goal since October after coming off the bench against Aberdeen at Hampden.
Maloney's tap-in sealed a 4-0 win and the 28-year-old is delighted to have the chance to play his part as the Hoops target a league and cup double.
"It was a pretty easy finish in the end but it was just very enjoyable, firstly to be on the pitch, and then anything I can do to help with the result is a massive bonus," he said.
Rehab
"Probably about a month ago or so I was unsure but the last three or four weeks of the rehab went extremely well.
"It's just that carrot of getting back to the last six or seven games of the season that drove me on.
"Every game, there is so much riding on it. We would much rather be in a position like this than unfortunately we were at this time last season."
Celtic return to Hampden on 21st May to face Motherwell in the final but first have seven more league games to play.
Neil Lennon's men visit Kilmarnock on Wednesday night and Maloney will be pushing for a return to the starting line-up.
Recall
"The manager's opinion counts more than mine but with each week that passes in training I'm feeling a bit better, so if called upon, I think I will be fine," he said.
"You need to perform on the pitch, if you keep performing well you try to make it impossible for the manager to leave you out.
"I can see that at the moment with other players in the squad, it's like that.
"But what the manager has said, with the amount of games coming up and what there have been, as you have seen, the squad will be used. I think we have got a pretty good squad at the moment."