McCulloch eyes early return
Lee McCulloch hopes to be in contention for a first-team comeback when Rangers entertain Celtic on Sunday.
Last Updated: 18/04/11 6:38pm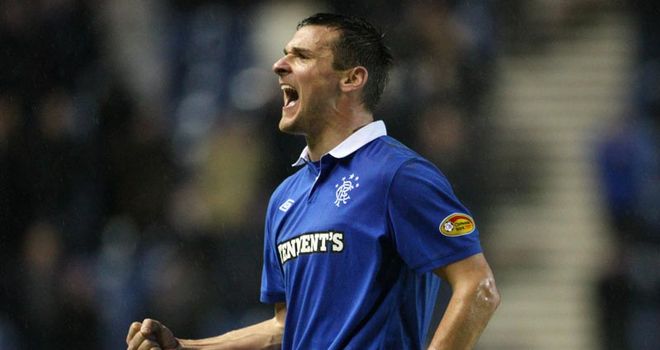 Lee McCulloch hopes to be in contention for a first-team comeback when Rangers entertain Celtic on Sunday.
The midfielder has been out of action since the start of February when a persistent knee problem finally forced him to undergo surgery.
McCulloch was initially told his season was probably over but he is now close to making a return.
And, although Tuesday's game at Dundee United comes too soon, he could be involved in the final Old Firm derby of the season at the weekend.
He said: "I'm hopeful. If I can train by the end of the week, then I should be available.
"It would maybe only be two training sessions in nine weeks or so but I've been keeping myself as fit as I can. I'm fit enough and look after myself off the pitch so I don't see it being a problem.
"If I'm available and I get any game-time on the pitch, I'll be delighted. It would be massive to be involved.
"I've been wanting to come back. The last three weeks have been touch and go and I just haven't got there. I just want to play games and be involved.
"I know it's maybe a big ask to start some games towards the end of the season but just to be involved with the rest of the boys is all I want just now.
"To come back and contribute to trying to make it three in a row would be something special but there is a lot of football to be played before then."
Hardest injury
McCulloch had been one of Rangers' more influential players this season until his spell on the sidelines, and he admits it has been a difficult period.
"It's been tough to be honest," he added. "This is the hardest injury I've had in my career to get over.
"It's the first operation I've ever had and it gets to you mentally at times but you've just got to be strong and get through it.
"I feel I'm getting to the stage where I'm ready to come back now and I'm feeling good.
"There was a stage when I was told I probably wouldn't make it back this season.
"Then I went to see the surgeon, who told me I had a chance of coming back. It can play with your mind a bit.
"I'm here now and hopefully I'll get back out over the next few games. To be told I could play again was a good feeling and hopefully I can contribute to any success we have."