Cesc - Gunners at crossroads
Cesc Fabregas believes Arsenal are at a crossroads and has admitted he is becoming frustrated by the club's lack of silverware.
By Rob Parrish - Follow me on Twitter @skysportsrobp
Last Updated: 20/04/11 2:18pm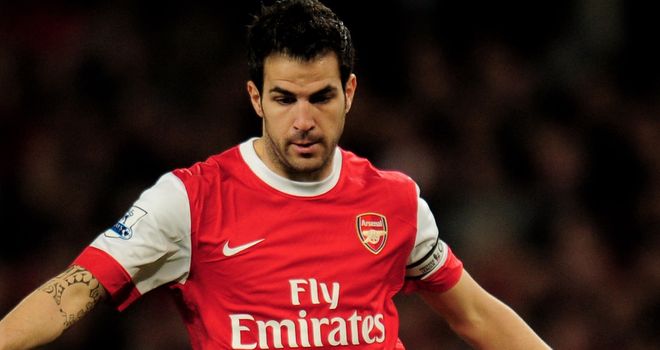 Cesc Fabregas believes Arsenal are at a crossroads and has admitted he is becoming frustrated by the club's lack of silverware.
The Spain international has been unable to help the Gunners end their trophy drought which now stretches back six years to their FA Cup triumph in 2005.
Fanciful talk of a possible quadruple earlier this season has been cruelly quashed, with defeats by Birmingham, Barcelona and Manchester United ending their Carling Cup, UEFA Champions League and FA Cup participation in quick succession.
And with Manchester United hot favourites to regain the Premier League crown with Arsene Wenger's men fading over the final furlongs, Fabregas believes a change of direction and mentality is required at Emirates Stadium.
The inspirational midfielder and skipper feels the club must make a decision as to whether they want to be a club known for winning silverware, or only for developing talented young players.
No use
He told Spanish magazine Don Balon: "From 2007 I had already started saying "we're not winning, but we're playing well". And then you realise that's no use.
"You enjoy yourself, during a phase of the championship - like this year, for example, when we were still in four different competitions.
"And you say to yourself 'here I have everything!' But then that final point is missing and it's then when you have to make a decision: either go out and win or develop players."
Fabregas also believes his side are lacking a few important ingredients to challenge the domination that Manchester United and Chelsea have enjoyed over recent seasons.
"It's difficult. For me it's more a lack of a winning mentality, also of maturity in key moments," he said.
Lack confidence
"We have plenty of quality but lack this bit of confidence. The problem is that the team needs to win something. That's why it was so important to win the Carling Cup.
"We needed this cup to be able to believe in ourselves as a team. (Robin) Van Persie has won an FA Cup as I have, but there's no more.
"Nobody in the team has won anything. We are missing that ability to say: 'now I know what it is to win and I know what it takes to win'.
"That's what made the Arsenal team of 'The Invincibles' so strong, they knew how to win games, when to dig in, when to attack, they had a special intelligence to read games. Now we are very young."
Economic stability
Fabregas was also asked why Wenger was not under more pressure following Arsenal's lack of trophies.
"It's different here," the Spain midfielder added.
"The coach is an intelligent person and the club value other things - that the team is always in the Champions League, that they fight until the end, bring through young players, economic stability.
"I guess that for the board that is important. Although I imagine there will be a moment when you have to take the plunge... either you win or you don't win."