Fab rules out English move
Cesc Fabregas has made it clear if he leaves Arsenal in the future it will not be for another English club.
Last Updated: 20/04/11 2:46am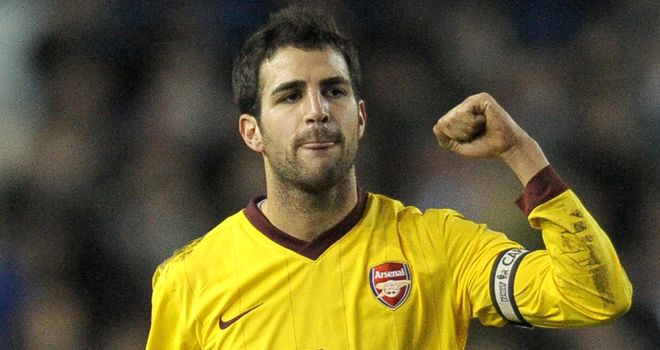 Arsenal captain Cesc Fabregas has made it clear that if he leaves Emirates Stadium in the future it will not be for another English club.
The Spain midfielder, who arrived in North London from Barcelona in 2003, has previously admitted his ambition to one day return to Camp Nou to play for the senior team.
However, the 23-year-old insists he will not follow in the footsteps of fellow Spaniard Fernando Torres, who moved from Liverpool to Chelsea, and join another English team when the time comes for him to leave the Gunners.
He told Spanish magazin Don Balon: "If some day I leave Arsenal it will never be to sign for another English team."
Catalan giants Barca had a £35million bid for Fabregas turned down by Arsenal last summer and have made no secret of their desire to bring him back to the club.
But the Spaniard refuses to make any rash decisions over his future, insisting patience is key.
Patience
He added: "You have to have patience with things and wait for the right moment.
"The day that I leave Arsenal I will do it with my head, not just because.
"As well as that, who can be sure that you are going to play in a new team?"
Arsenal have not secured silverware in six years, but Fabregas insists he has plenty of time to win trophies, drawing on friend and Barcelona captain Carles Puyol as an example.
"Here I have the great fortune that at a personal level, despite not having won much, I'm doing very well," he said.
"I spoke with (Barcelona captain Carles) Puyol and he told me that at 26 he hadn't won anything. Puyol, who has won everything in the football world!
"Patience and hard work are the most important things in life."