Odemwingie happy at Baggies
Peter Odemwingie insists he is happy to stay with West Brom despite being linked with a move elsewhere.
By Pete O'Rourke - Follow me on Twitter @skysportspeteo
Last Updated: 21/04/11 9:13am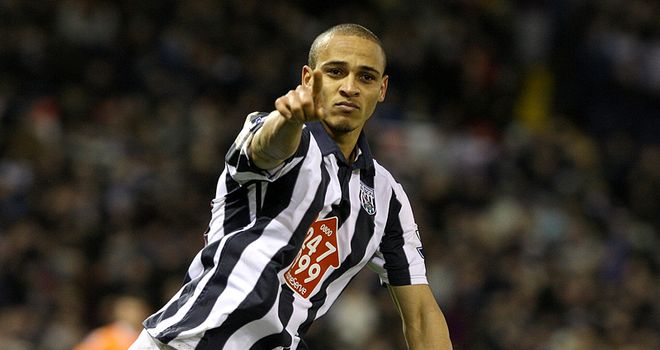 West Brom star Peter Odemwingie insists he is happy to stay at the Hawthorns despite being linked with a move elsewhere.
The Nigeria international has impressed in the Premier League this season since his arrival from Lokomotiv Moscow last summer
Italian giants Juventus and Premier League rivals Newcastle are thought to be keeping tabs on the 29-year-old, who has netted 12 goals this term.
However, Odemwingie has played down the speculation, claiming he has no plans to leave West Brom.
"You never know what's round the corner in football, but all I can say right now is that I'm very happy here at West Brom," Odemwingie told Fifa's official website.
"I'm not anxious to move again. Transfers can always happen but this club gave me a chance in England and, as long as I'm happy and I'm scoring goals, I've no problem staying here. "
Lost control
Odemwingie admits he has been impressed by Baggies boss Roy Hodgson since he took over from Roberto Di Matteo.
Di Matteo was axed by the Baggies in February after dropping down the table and Odemwingie believes the Italian may have lost some control following their dip in form.
"He's a very strong person with real character, and he makes sure the team is always extremely well organised and focused," Odemwingie said of Hodgson.
"I must say too that I still admire Roberto Di Matteo because we played some great football under him earlier in the season. But I do think we started relaxing after starting so well and began to think the job was done.
"Maybe the previous manager lost a bit of control when that started happening."