Crouch ramps up City pressure
Peter Crouch believes Manchester City are under more pressure than Spurs in the hunt for fourth place.
Last Updated: 21/04/11 4:49pm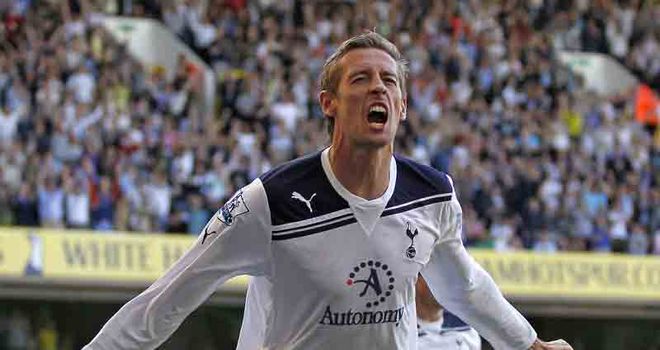 Peter Crouch believes Manchester City are under more pressure than Spurs in the hunt for fourth place.
Following Wednesday's 3-3 draw with Arsenal, fifth-placed Spurs now sit two points behind Roberto Mancini's side with six games to play.
One of those matches is against City at Eastlands on 10th May and Crouch is hoping for a repeat of last season when Harry Redknapp's side beat the Blues to qualify ahead of their big-spending rivals for the UEFA Champions League.
The striker feels all the pressure is on City in the race for fourth, given Mancini has spent more than £150million to help him succeed where he failed last year.
Crouch said: "They're under more pressure than we are. That doesn't make us have any less desire to get in there but we have probably got a bit more freedom than them.
"There is pressure on us too, though, because we've loved every minute of being in the Champions League this year. It's been fantastic.
"That's what we want next season. We've proved we can play against the best and that's where we want to be again next year."
Repeat performance
The England striker scored to beat City at Eastlands last season and is hoping for a repeat performance in the battle on 10th May.
"I hope it comes down to that match again. I enjoyed that last year, it was great," Crouch added.
"It will be like a cup final in many ways.
"This year they will be trying all out. I don't think they'll maybe go as easy as they did last year. We were fantastic there last year and hopefully we can repeat that."
Wednesday's draw put another dent into the Gunners' hopes of winning the title but Crouch is focused solely on Spurs' ambitions and wants Redknapp's side to improve their form against the teams lower than them in the table during the run-in.
Spurs face West Brom on Saturday and must also play Blackpool and Birmingham and Crouch wants his side to improve after losing to the likes of the Tangerines, Wigan and West Ham already this term.
Worried
"It looks like Arsenal's title challenge is over but I'm not worried about Arsenal, I'm worried about us, as our main objective is to get fourth," Crouch added.
"Against the top teams we've been magnificent for a couple of years but to have any aspiration of winning the league, you have to make sure you win games against lower teams in the division.
"We've slipped up a few times this season. They're the most frustrating ones to have dropped. On the big occasion and big games we've proved we can play against anyone."
Meanwhile, team-mate Tom Huddlestone, who scored in the draw with the Gunners, is also targeting fourth spot.
He said: "Fourth is still up for grabs as we've been saying all week. We've still got to play City and we're just two points behind so it's still in our hands, similar to last year.
"We've got six massive games left and if we can beat City and win the majority of the other ones, we won't be far away."