Meireles tips Dalglish for top
Liverpool are back on the road to success under Kenny Dalglish, according to Raul Meireles.
Last Updated: 22/04/11 12:05pm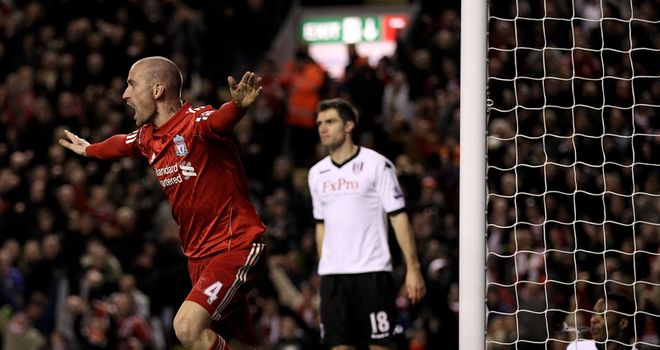 Liverpool are back on the road to success under Kenny Dalglish, according to Raul Meireles.
The former Anfield player-manager replaced Roy Hodgson on a caretaker basis in January and his appointment has coincided with an upturn in fortunes at the club.
Meireles, too, appears to have benefited from his arrival as he has been one of the beacons of success in a largely disappointing campaign for the Reds.
However, his improvement was noted after he was named PFA Fans' player of the year on Thursday.
January saw Liverpool acquire Luis Suarez and Andy Carroll and the Portugal international is confident they will improve the team further once they have more time to settle in.
Success
"We all want to improve and bring success to this club," Meireles said.
"In the future we will see a better Suarez, a better Andy Carroll and a better Raul Meireles I hope.
"It's a pleasure to play for Kenny. He is a fantastic manager and everybody loves him.
"He knows a lot about football and it's great for me to work with Kenny.
"He has encouraged us to play good football and he has given us a belief that every time we go out on the pitch we can win."
Europa League
Liverpool are currently sixth in the league and have a fading chance of still qualifying for the Europa League next term.
Manchester City and Tottenham are in pole positions for that spot but there is a new sense of optimism around Anfield that is compelling them to fight until the end.
"We still believe we can qualify for the Europa League and win every game between now and the end of the season," Meireles added.
"I know we are depending on the results of other teams but we just need to win every game.
"If we do our job well then I think we will have a good chance of qualifying."