Smith wants wealthy owners
Walter Smith insists the investor willing to spend the most on the team is the ideal owner of Rangers.
Last Updated: 22/04/11 5:19pm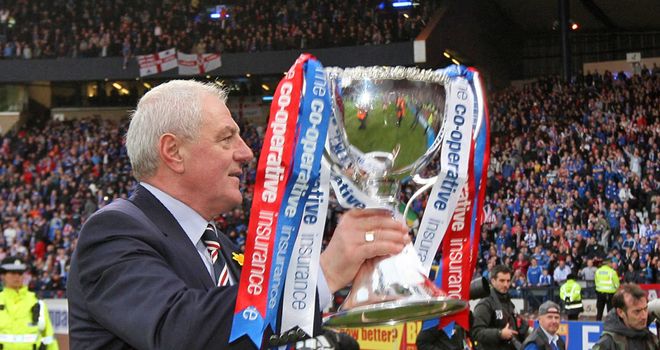 Walter Smith has backed the investor willing to spend the most money on the team as the ideal owner of Rangers.
It had looked like the protracted sale of the club to Scottish businessman Craig Whyte would be concluded earlier this week.
But the estimated £52million deal hit a last-minute snag when club chairman Alastair Johnston raised doubts about the deal.
It is believed Johnston would like the board to explore the possibility of another offer from a consortium that is being fronted by club director Paul Murray.
Lavish investment
This all still points to an uncertain future for the Scottish giants who have stagnated financially in recent years as the lavish investment that underpinned the early years of Sir David Murray's ownership has dried up.
The sale of £52.5million would have seen Murray bought out and perphaps most importantly, pay off Lloyds Banking Group - their main creditors.
But as Smith prepares to stand down in the summer to be replaced by Ally McCoist, he insists the correct owners will be the ones prepared to invest the most.
He said: "Whoever takes over the club, the person who is going to invest the most money in the team - which hasn't had a great deal of investment over the last few years - is going to be the best person to take over the club.
Dominate
"That's my view from a purely footballing point of view. I'm kind of selfish in the respect that I would think the footballing aspect would dominate more than any other aspect.
"The team desperately needs the investment so I would be happy to see whoever as long as they invest in the team."
The veteran boss did not want to be drawn on reservations over the Whyte bid, adding: "I don't know anything about that. We are not involved in that aspect of it.
"So, from my own point of view, it goes back to the very basic thing that I've just mentioned.
"That, for me, is the biggest thing in terms of the takeover because I base whatever I've got purely on football."