Harry plays down VDV worries
Tottenham manager Harry Redknapp does not believe Rafael van der Vaart's fitness is a long-term issue.
Last Updated: 23/04/11 12:04pm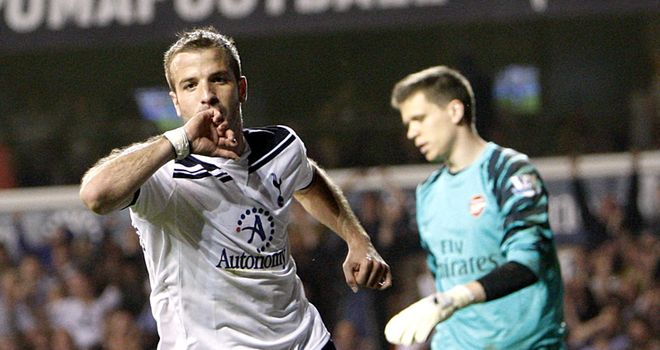 Harry Redknapp does not believe Rafael van der Vaart's fitness is a long-term issue and has challenged the Dutchman to inspire Tottenham to UEFA Champions League qualification.
Van der Vaart has enjoyed a splendid first season in the Premier League but has regularly been substituted in the second half of games and on a couple of occasions recently has risked the wrath of Redknapp by walking straight down the tunnel rather than staying to watch his team-mates.
Redknapp has stressed that he will continue to take off the 28-year-old when he tires in matches, although he does not think it will be so much of a problem next term.
Van der Vaart's preparations for this season were disrupted and he has had to contend with a couple of injuries, but Redknapp is happy with his work-rate on the pitch.
The Spurs manager certainly never considered replacing Van der Vaart during Wednesday's 3-3 draw with Arsenal, when he scored twice, and is now banking on the former Real Madrid playmaker carrying on his fine form.
"Rafa was outstanding the other night and hopefully he can now have a good end to the season," said Redknapp.
"If he goes on a run of scoring goals from now to the final game, it could make a difference for us.
Top player
"I don't see his fitness as a long-term issue. He has had injuries but if you look at his stats when he plays, he covers an awful lot of ground.
"Sometimes early on I was subbing him because he was getting tired and I felt he might do his hamstring or something.
"After all, he missed a pre-season after going away with Holland to the World Cup and he was probably sitting around a hotel and not doing a lot.
"If you miss pre-season, the fitness you need to put in the bank that keeps you going for the season is not there.
"But he's a top player - right up there with Gareth Bale and Luka Modric for us - and we need him playing at his best because when he is, he is a match-winner.
"He makes and scores goals and if he has a strong end to the season it's going to be a big bonus."