Wenger reveals Nasri optimism
Arsene Wenger says he is "very optimistic" midfield ace Samir Nasri will extend his contract with the Gunners.
Last Updated: 23/04/11 10:57pm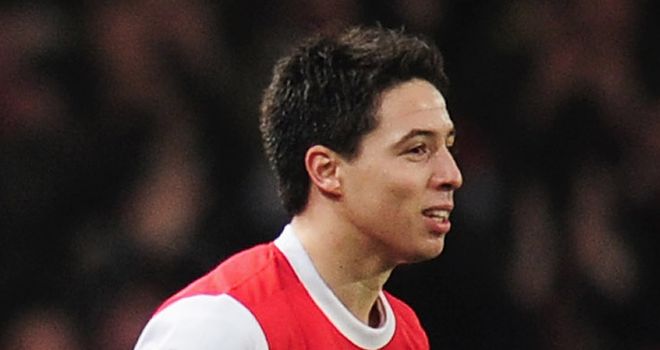 Arsene Wenger says he is "very optimistic" midfield ace Samir Nasri will extend his contract with the Gunners.
The 23-year-old France midfielder is moving towards the final year of his current deal, as is full-back Gael Clichy.
Wenger revealed talks have opened with Nasri and his agent as he seeks to end a trophy drought at the Emirates.
The Gunners boss said: "We are talking to Nasri and his agent already and we have the same situation with Clichy. We have agreed to speak about it during the summer.
"The players have the opportunity here to do it in their own way, with their own philosophy, with their own togetherness.
"When you sign a contract for four or five years, you are committed through your contract to win trophies with the club where you sign.
"It is in no contract that if you do not win a trophy the first year, you can leave."
Absolute commitment
Wenger maintains Arsenal will continue to have an "absolute commitment to youth" as they look to stay ahead of the likes of big-spending Manchester City.
However, the Gunners boss also suggested he was ready to add "what was needed" this summer to keep his squad competitive.
"Nobody asks them to wait. We can win straight away," Wenger continued.
"You speak like the players are not responsible for winning trophies. They are as well responsible, as I am, as the fans are.
"Why do you think we pay the players? A club, a football team, is a togetherness between the manager, the players, the club, the philosophy, and a commitment.
"After that you can have some individual situations, but it cannot be a philosophy that if at any time we do not win I should move on.
"It is down to belief, the direct consequence of the motivation you put into your next game.
"If your belief is very low, your feeling is very low.
"What I think we can get from our performances is the belief that we have the quality."
Fighting
Wenger takes his side to Bolton on Sunday afternoon fighting to stay in the title race after another missed opportunity to close the gap on leaders Manchester United when they drew 3-3 at Tottenham having at one stage held a two-goal lead.
The Gunners boss, however, maintains all is not yet lost.
"We are fighting for the championship and I am always sitting in a position where you force me to explain why we fail," Wenger said.
"For me it's not a comfortable situation because we are fighting in a period where the most important thing is to have belief in what we do and you keep saying 'why have you failed to win?'.
"Let's just play for it first and have a go.
"For me it is important to give absolutely everything until the last game of the season, to be proud, and then, as I have said many times, if there has been somebody better we will have to accept that.
"But at the moment I don't accept that there is somebody better."