Henderson back to his best
Sunderland's Jordan Henderson believes he has answered his critics after his performance against Wigan.
Last Updated: 24/04/11 4:46pm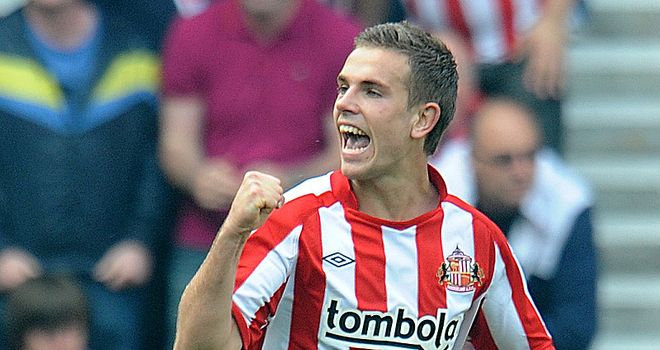 Sunderland's Jordan Henderson believes he has answered his critics after his outstanding performance against Wigan.
The 20-year-old has enjoyed a meteoric rise this season which has seen him establish himself in the Black Cats first team and earn an England cap.
Henderson was showered in praise when Steve Bruce's mean were enjoying a stellar run before Christmas and he has received criticism in equal measure during their winless nine-game run.
Bruce even opted to leave him out of the firing line in the defeat against West Brom a fortnight ago.
Riposte
Yet, he provided the perfect riposte to his detractors with a fine performance in the 4-2 win over Wigan on Saturday, which he capped with two goals.
And he insisted the criticism of him from the home fans had not affected him.
"I don't think it has been tough, to be fair. I have got the right people around me to keep my confidence up and keep me intact," said Henderson.
"I have just been knuckling down, keeping my head down and hopefully it paid off today.
Shopping
"If we haven't won in a couple of weeks, I have to do my shopping online. I can't really go out of the house.
"But that comes with football and I have got to deal with it, and I have got to be man enough to respect their opinions."
Henderson's response to being left out by Bruce had the Black Cats chief jesting that maybe he should have done it for longer.
"I have only freshened him up for one week - maybe I should have freshened him up for a month," he said.
"I knew the kid was running on empty, unfortunately, and everybody around in the ground plus me knew, but with the problems we had, it was impossible to leave him out."