Hodgson hopes striker stays
Roy Hodgson believes it is imperative that West Brom retain the services of Peter Odemwingie.
Last Updated: 25/04/11 1:55pm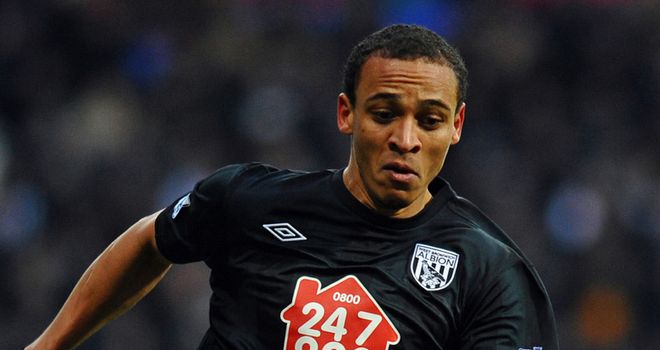 Roy Hodgson believes it is imperative that West Brom retain the services of Peter Odemwingie.
The Nigeria international has been a Premier League success story this season, having adjusted quickly to life in England.
He hit the ground running following a summer switch from Lokomotiv Moscow and took his top flight goal tally to 13 on Saturday with an effort against Tottenham.
The 29-year-old's success at The Hawthorns has not gone unnoticed, with a number of top clubs, including Serie A giants Juventus, believed to be plotting raids once the transfer window re-opens.
Hodgson has no intention of parting with the highly-rated striker, though, and hopes the Baggies board will support him in that stance.
He knows it is important for a club like West Brom, who have ambitions of consolidating in the Premier League, to improve year on year, rather than continually offload their most prized assets.
"It would be nice if Juventus told us (they were interested) rather than us having to hear it from the media," Hodgson said.
Improve
"But it's a no-brainer really isn't it? If you're going to have a spell of years - even if it's only two - in the Premier League then you've got to improve your team.
"We were very lucky to survive my first six months at Fulham but we did improve the team quite considerably going into the next season and again into the season after that and now we'd all agree Fulham are not a only a mid-table team but I would put them up as one of the top 10 teams in the country."
In order for Hodgson to turn West Brom into a top-10 side, he feels he will need to bring in 'several' new recruits over the summer.
He added: "We are running on a reasonably small squad of players. We are asking an awful lot of inexperienced players who are getting better all the time.
"But if we want to have a good Premier League campaign next season, it is very important we sign several players in the summer that will really help us.
"It will also take some of the burden away from the Youssuf Mulumbus and Peter Odemwingies who, you must remember, are in their first season in the Premier League."