Coyle - Sturridge deal hard
Owen Coyle has reiterated his desire to bring Daniel Sturridge back to Bolton but admits it could be difficult.
Last Updated: 26/04/11 4:31pm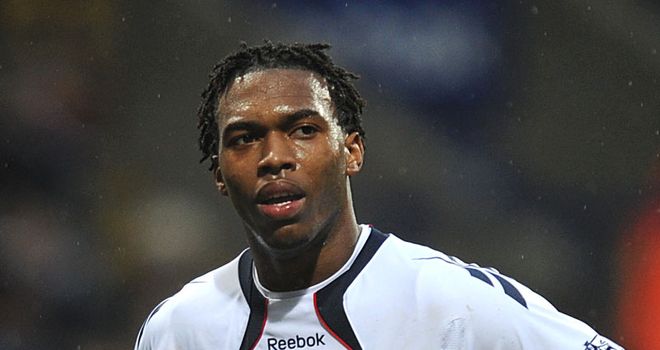 Owen Coyle has reiterated his desire to bring Daniel Sturridge back to Bolton but admits it could be difficult.
Sturridge has excelled since joining the Trotters from parent club Chelsea in January on a deal until the end of the season.
He scored his seventh goal in nine matches to set Bolton on their way to a 2-1 success against Arsenal on Sunday and Coyle has been hugely impressed.
Coyle has previously admitted that talks over re-signing Sturridge, either on another loan deal or permanently, will have to wait until the summer.
But he has made it clear that he would be keen to work with the youngster again if an agreement could be reached that suits all parties.
He said: "It's not rocket science to know that we would love to have Daniel here but for that to come to fruition then a number of things need to happen.
"Obviously Chelsea would need to give their blessing and Daniel would need to want to come back and play the part that he has to this point. That will be for the summer.
"I thank Chelsea for allowing us to have Daniel and it was always going to be a win-win situation."
Developed
Having seen how Jack Wilshere's career has gone from strength to strength since returning to Arsenal following a spell at the Reebok Stadium last season, Coyle has urged Sturridge to keep his feet on the ground.
Coyle said: "How Jack's developed from being a young boy into a man is testimony to him, and Daniel can do the exact same thing. I've loved working with both of them.
"Whatever's going to come will come his way anyway but he has to make sure that he's concentrating on his job and continues his progress because we all know in football that if you don't then the rug gets pulled from under your feet.
"I've stressed to Daniel on a daily basis that every time he crosses that white line he has to keep showing people that he's the real deal, which he is.
"He's been doing it to this point but we've got five big games between now and the end of the season and I want him to continue that development."
Sunday's impressive victory over Arsenal ensured Bolton put behind them at the first opportunity their 5-0 thrashing by Stoke in the FA Cup semi-finals a week earlier.
Freak result
Coyle, who is now preparing for another Premier League match against Fulham on Wednesday, maintains that he had no doubts his players would respond in the right manner.
He said: "I didn't worry with this group of players. What happened, as hurtful as it was, it was a freak.
"We've played 41 games and there haven't been many of those where we haven't reached a certain standard.
"We had to try to bounce back quickly. We had six games at that point and we wanted to try to get as many points as we could to continue the progress we've made at the football club.
"We managed to do that on Sunday and now we move on to a very tough game at Fulham.
"They're a quality side, they played ever so well at Wolves at the weekend, but it's another opportunity to get a win. We've won there in the cup this year and we have to try to do it again."
A win at Craven Cottage would take Bolton above Everton into seventh place and maintain their slim hopes of securing a Europa League spot.
Coyle added: "Where we sit in the league we recognise there's a clamour of clubs behind us hoping to continue their improvement and move up the league and equally we've got to look above us to Everton and Liverpool and try to capitalise on our game in hand tomorrow night."