Roy to fight for Odemwingie
Roy Hodgson has insisted it would take a sizeable offer for West Brom to part with striker Peter Odemwingie.
Last Updated: 28/04/11 10:54am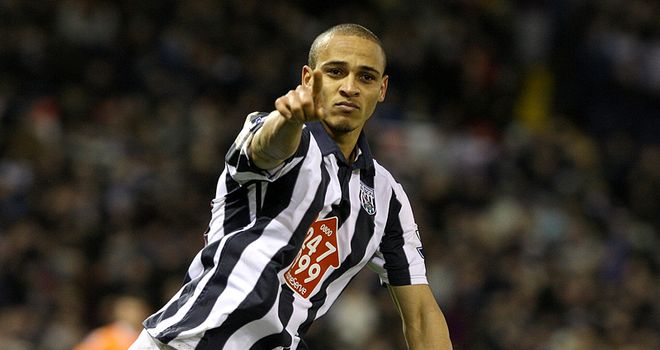 Roy Hodgson has insisted it would take a sizeable offer for West Brom to part with striker Peter Odemwingie.
The Nigerian has been linked with a move away from The Hawthorns in the summer after an impressive first year in the Premier League.
Hodgson has previously admitted there is likely to be interest in Odemwingie but he remains optimistic about his chances of keeping the 29-year-old.
The Baggies boss does not know how many clubs will be spending heavily in the transfer window and maintains that Odemwingie would command a considerable fee.
"He's a good player and we would like to keep him here," Hodgson told the Birmingham Mail.
"Whether we receive any offers or not, who can say? But I'm not sure there's an awful lot of money around.
"Certainly we wouldn't be looking to get rid of him so it would have to be the type of offer you can't refuse and we know what top front players cost in the market.
"I'm not suggesting £50million but they certainly cost top money, so it would be a question of what teams are out there with that sort of money to spend and whether Peter Odemwingie is the type of player they are looking for, so there are a lots of ifs and buts."
Juventus are the latest club to have been connected with a swoop for Odemwingie but Hodgson has brushed off any speculation regarding a switch to Serie A.
He explained: "I don't take a lot of notice of the Juventus thing. Any agent in the world can always drum up an Italian club.
"When I was at Inter there wasn't a day that went by when there weren't 10 players we were supposedly signing.
"It would have run into thousands over two years.
"When I hear about Juventus I just shrug my shoulders. If you're an English journalist thinking 'who can I link him with?' Inter and Juventus are always good bets."
Happy
Hodgson is determined to keep all his best players as West Brom look to build for next season, and he believes Odemwingie wants to be a part of their future.
"Peter seems perfectly happy here and he's a joy to work with and I think he has enjoyed his time here," said Hodgson.
"I don't think he's looking to take the first opportunity to get out of the club.
"We're not going to have a chance to do well next year if we've got to start building again.
"Our only chance to do better next year is to build on what we've got.
"If we're going to lose the best ones we've got and start again then I would think the task is going to be more than uphill.
"No-one wants to be in that situation."