Vidic dreaming of trophies
Nemanja Vidic says captaining Manchester United to silverware this season would be 'a dream come true'.
Last Updated: 29/04/11 8:38am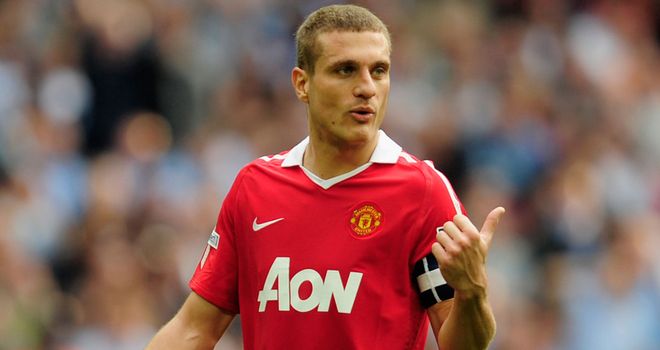 Defender Nemanja Vidic says captaining Manchester United to silverware this season would be 'a dream come true'.
The Red Devils are on course for a Premier League and UEFA Champions League double, sitting top of the domestic table and holding a 2-0 first-leg lead in their European semi-final tie with Schalke.
Skipper Vidic, who was handed the armband at the beginning of the campaign and has been a star performer for United this season, is desperate to finish the job with his side.
"Obviously it's a dream to be the captain, especially at such a big club as Manchester United, and lift the trophy," Vidic told Sky Sports News.
"This is the dream of any footballer. To be honest, as a player, I never dreamed I could go that far.
"To play for such a big club and to be the captain is like something that happens in a dream, and I'm enjoying it."
Vidic added that lifting the Champions League trophy at Wembley while wearing the captain's armband would be particularly special.
He said in The Sun: "Just playing in the final is an incredible feeling.
"But to lift the trophy at Wembley as United captain would be the pinnacle of my career. It would be a dream come true."
The centre-back says United are spurred on by memories of the defeat to Barcelona in the 2009 final.
"In a final, you remember the way you lose," he added. "You want to play again and win."
Vidic is backing in-form team-mate Wayne Rooney to help United realise their trophy ambitions this season.
Great form
"At the moment he's in great form, these last few weeks," he said. "He's had some great performances and scored some great goals.
"If he performs like he has performed over the last few weeks I think we've got a big chance of lifting the trophy this year.
"When he's fit and doesn't have injuries, he's definitely one of the best."
Fellow Red Devils man Michael Carrick agrees Rooney, who was on target against Schalke on Tuesday night, is key to United's title hopes.
He said: "He's been getting better and better. The other night he was sensational again. When he's playing like that he's as good as anyone."