Jensen urges final push
Brian Jensen has urged Burnley to give it one last push as they aim to snatch a play-off spot.
By Ben Collins
Last Updated: 29/04/11 2:09pm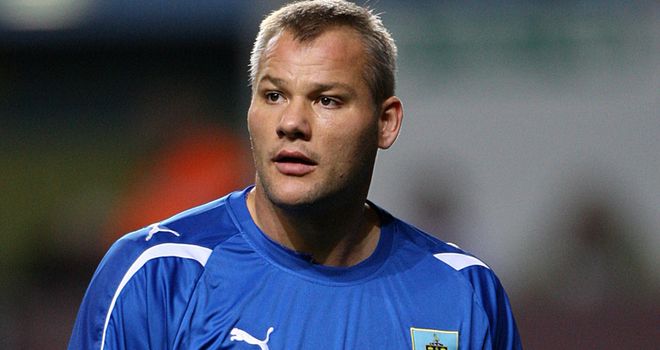 Brian Jensen has urged Burnley to give it one last push as they aim to snatch a Championship play-off spot.
The Clarets' bid to bounce straight back up into the top flight this term has been hindered by inconsistency, with a winless run of six games during March and April killing off their hopes of automatic promotion.
But Eddie Howe's men took 10 points from their last four games to stay in the play-off hunt and set up two crunch games in the battle for promotion to the Premier League.
Burnley are two points off the top six heading into Saturday's trip to Leeds, which will be shown live on Sky Sports 2 & Sky Sports HD2, with the hosts just a point further back.
Next week the Clarets finish their league campaign at home to third-placed Cardiff and keeper Jensen is confident they can take it down to the wire.
"They're two crackers because they're two must-win games for us," he told skysports.com.
Momentum back
"We had a good run after the new gaffer arrived in January but then had a dip in form. Now we've got some momentum back we're going to do our best to get in there.
"It's not in our hands but we'll keep on going until it's mathematically impossible. As long as we're still in with a shout we're going to give it a good go."
While Jensen feels it would be no disgrace to miss out on promotion this season, he believes Burnley must set their sights firmly on going up next term instead should they fall short.
"The main goal was to go straight back up again, especially with the squad we've got," added the Danish veteran, who has recently won his place back from Lee Grant.
"I wouldn't say it's a failure but it's definitely a disappointment that we're sat here talking about trying to get into the play-offs rather than talking about already celebrating.
Not easy
"That's the way it is in the Championship. There's no easy games, it's a really tough division. Anybody might think it's easy to go down and come straight back up again like West Brom and Newcastle did last year. But that's a big achievement and they did really well to do that. We haven't been able to do that straight away but it could be a lot worse, we could not be in with a shout at all.
"We'll have to see how it is after Saturday. We haven't really had any luck all season so hopefully it'll turn for us in the next couple of games.
"We can still get promoted but if it's not going to happen this season, we'll be a very strong contender for the next one."