Bayern - Neuer won't join Utd
Karl-Heinz Rummenigge is hoping Bayern Munich can agree a deal to sign Schalke keeper Manuel Neuer.
Last Updated: 01/05/11 11:39am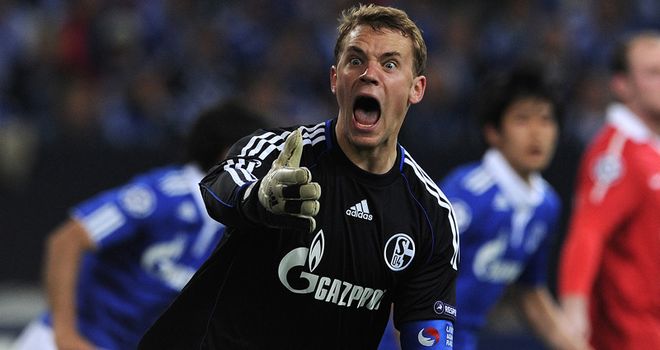 Karl-Heinz Rummenigge is hoping Bayern Munich can agree a deal to sign Manuel Neuer and insisted the Schalke goalkeeper will not be joining Manchester United.
Neuer has confirmed his intention to leave Schalke at the end of the season and Bayern are keen to bring the Germany international to the Allianz Arena.
Premier League leaders United have also been strongly linked with a bid for Neuer, but the 25-year-old has previously stated he wants to stay in the Bundesliga.
Rummenigge is not worried about any competition for Neuer's signature and feels Bayern have plenty of time to reach an agreement with Schalke.
"Let's talk about the facts," Bayern's chairman told ZDF television.
"Fact one is Manuel Neuer will not be staying with Schalke beyond 2012. Fact two is that Manuel Neuer will not be moving abroad."
No urgency
However, a switch to Bayern is still not certain, with Rummenigge adding on Sky television: "We are in talks with Schalke, but I am not as optimistic as certain members of the media.
"We don't have any urgency, though. It is only April 30 and the transfer market closes on August 31.
"We will see if we can find a solution. If there is one, then okay, but if not then both clubs will have to live with it."
Bayern fans protested against the possible signing of Neuer during the 4-1 home win over Schalke on Saturday, but Bastian Schweinsteiger is keen to link up with his international team-mate at club level.
Schweinsteiger told Die Welt: "If you can sign Manuel Neuer, who is not only the world's best, but Germany's goalkeeper too, you have to sign him.
"If there is the chance to strengthen the position, so that no other team is better, then you have to do it.
"I personally hope the club manage to sign him."