Evra - United were too nice
Defender Patrice Evra believes Manchester United were 'too nice' in their Premier League defeat by Arsenal at Emirates Stadium on Sunday.
Last Updated: 02/05/11 2:00pm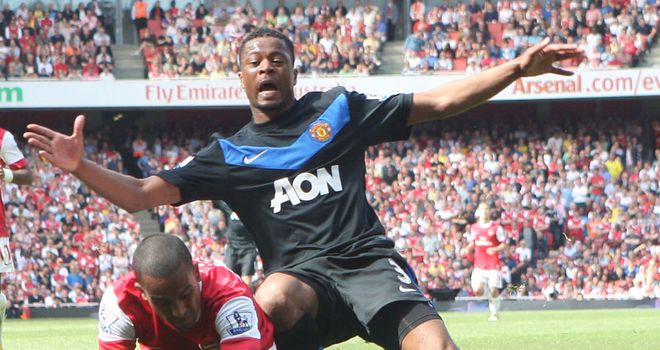 Patrice Evra believes Manchester United were 'too nice' in their defeat by Arsenal at Emirates Stadium on Sunday.
The Red Devils' 1-0 reverse has thrown the title race wide open again with Chelsea now just three points adrift ahead of their trip to Old Trafford on Sunday.
United had enjoyed six victories in their previous seven meetings with Arsene Wenger's men, which Evra has previously described as 'men against boys', but were undone by Aaron Ramsey's second-half strike after a surprisingly limp display.
Despite the defeat, the France international was again less than complimentary about the Gunners and believes Sir Alex Ferguson's side only have themselves to blame.
"We didn't play to the Manchester United way and when we don't play to the Manchester United way we don't deserve anything," said the left-back.
Never dangerous
"People think when we played against Schalke the game was easy. We made the game easy because we were ready for the battle and ready for the challenge. The game was easy because we played with more aggression and with power.
"Maybe against Arsenal we think it is going to be easy but we didn't make the game easy.
"We were too nice. We know Arsenal. They keep possession of the ball but they are never dangerous.
"But normally when we come to the Emirates, we play with more power and aggression and create more chances.
"You have to kill that game early, not wait until you concede a goal.
"The attitude at the beginning of the game wasn't right. That is why I was very frustrated. We didn't deserve to win."
Accident
United are in the midst of a crucial spell of their season with the second leg of their UEFA Champions League semi-final to come on Wednesday ahead of Sunday's blockbuster showdown with the Blues.
Ferguson's men hold a 2-0 advantage over the German side after overwhelming them in the first leg and Evra is keen for an immediate return to winning ways.
"Our destiny is still in our own hands," emphasised Evra. "We have two massive games coming up, against Schalke and Chelsea.
"We must focus on recovering for the Schalke game but we also know if we want to win the title we have to beat Chelsea. If we don't beat them we are going to be in trouble. We don't want to be in trouble.
"But I have to say, I am not worried. Against Arsenal, we did not do the things we normally do.
"Hopefully it was an accident because we have five games left. Every one is like a final. We need to win them all."