De Jong relieved to break duck
Man City midfielder Nigel De Jong has admitted his relief after breaking his duck against West Ham.
Last Updated: 02/05/11 3:12pm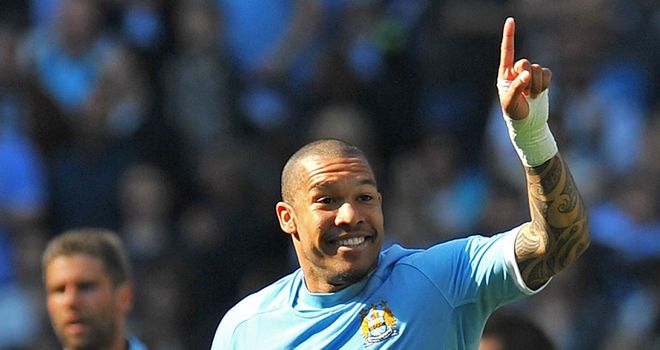 Manchester City midfielder Nigel De Jong has admitted his relief after breaking his duck against West Ham.
The 26-year-old Dutch enforcer netted a fine effort to open the scoring during the 2-1 victory over the Hammers on Sunday - his first goal for City.
De Jong arrived at Eastlands in January 2009 and is pleased to have finally opened his account after more than two years.
"The ball bounced off one of the West Ham players and came down to the edge of the box," he told the club's official website.
"I was standing there so I saw the opportunity to shoot and this time finally it went into the net.
"The relief was there. The boys had been asking me when I was going to score my first goal and saying I had lost my touch, and all sorts of thoughts had been getting into my head.
"So it is nice to score a goal to make sure your side is leading 1-0. It was a personal victory as well."
Kompany backing
Meanwhile, team-mate Vincent Kompany added: "I was happy to see Nigel score because he really has been looking for that goal for such a long time.
"I know he can score because I played with him at Hamburg and he did there.
"I hope that will trigger his account now and who knows, maybe we will see five or 10 goals a season from Nigel! He can handle the pressure.
"We joke about things like this but it's also a challenge. We joke about Zaba (Pablo Zabaleta) as well, and obviously he has also done it now.
"I had better start working on it now - I can score as well, so it can't be that long any more before I get one."
One negative was that De Jong limped off at half-time against the Hammers with a hip complaint but he hopes to be fit for the clash with Everton next weekend.
"I took a knock earlier in the week on my hip and I was out of training for a couple of days," he said.
"At the end of the first half I felt my hip again, so we will have to see.
"I think I will have a scan on Tuesday and see the results, but I hope it is not too bad because every game now is a final for us and I don't want to miss any."