Olsson defends Albion discpline
Jonas Olsson has defended West Brom's disciplinary record after their seventh red card this term.
Last Updated: 03/05/11 3:18pm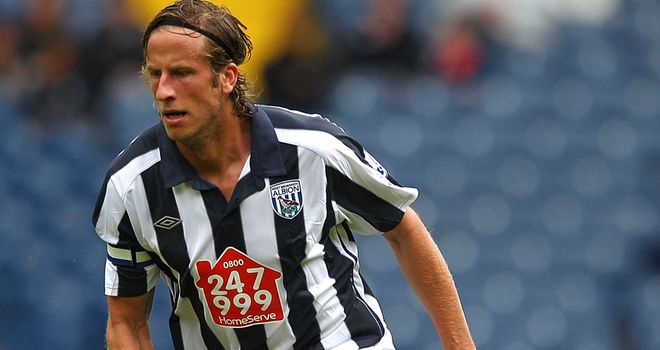 Jonas Olsson has defended West Brom's disciplinary record after being shown more red cards than any other Premier League side this season.
Albion midfielder Youssouf Mulumbu is one of five Premier League players to be sent off twice this term.
The Baggies' seventh dismissal of the campaign came during Saturday's 2-1 win over Aston Villa, when Paul Scharner was given his marching orders.
But defender Olsson feels that record is more down to the Baggies giving as good as they get than being too aggressive.
"We're not a dirty team so it's difficult to analyse that," he said.
"I had an unfortunate red card, Youssouf had one or two and Mozza (James Morrison) had one at Liverpool but I don't think you can see a pattern.
"In one season, we might get six or seven and the next season we might get one or two.
"We don't play dirty football but this season we have been coping with the physical side better than we did in the past seasons.
"That's one of the factors to putting us in the position we're in."
Safety
West Brom have climbed towards safety with 16 points from nine games under Roy Hodgson.
The Baggies are now 11th, two points above local rivals Aston Villa, and Olsson is hoping they can clinch a top-half finish.
"Finally, I think we are safe," he said. "We're eight points ahead so now we're safe and we can enjoy the last three games.
"If we can finish as the top club in the Midlands, and in the upper half of the table, we want to do so.
"Now our aim is just to keep going and keep playing the football that we have been playing."