Martin hails Canaries unity
Norwich ace Russell Martin has hailed the unity among the Canaries after clinching promotion to the top flight.
Last Updated: 04/05/11 12:43pm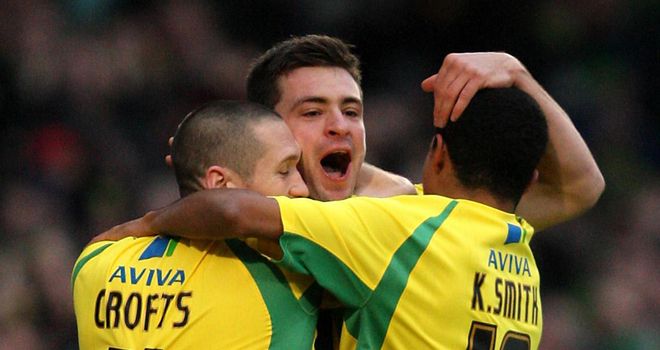 Norwich ace Russell Martin has hailed the unity among the Canaries after clinching promotion to the top flight.
Paul Lambert's side beat Portsmouth on Monday to seal a back-to-back promotions after nearest rivals Cardiff slipped up at home to Middlesbrough.
Martin believes a lack of big name players has helped win promotion for the club, who boast famous chef Delia Smith as their majority shareholder and Stephen Fry on the board.
He said: "We've got more famous directors than players but I think that's been part of our success.
"We don't have any big names, big egos, not at all. I don't think this dressing room would allow it.
"We've been saying that none of us have known anything like this, so let's go and do it for each other. It's life-changing for all of us.
"We've probably only got a handful of Premier League appearances between all of us, so there's a lot to prove.
"We'll enjoy this for a couple of weeks and then think about that. I can't really put it into words. It's an unbelievable feeling."
Hard way
The 25-year-old full-back has made it to the Premier League the hard way having worked his way up the divisions.
Martin added: "There are five or six of the lads including myself who have worked their way up through the leagues.
"We'll be the same next year. We'll approach it in exactly the same way. I don't think the gaffer's got another way.
"Blackpool have done it and they've got a great chance of staying up. Hopefully we can emulate that next season and enjoy it.
"Teams have gone up recently and, rather than sitting back like teams have in the past and got really punished, they've gone out to play a little bit.
"They've tried to win games rather than go to places for a draw. I'd like to think it pays off eventually. We've gone about it that way this season.
Principles
"We've passed the ball as well as we can. Swansea do the same. I think we'll stick to those principles.
"The gaffer wants to enjoy watching his team and there's nothing wrong with that.
"I'm sure there will be a few additions, a few comings and goings, but hopefully the core of the group will stick together."
Martin hailed the influence of manager Paul Lambert after he has masterminded back-to-back promotions for the club.
He said: "The manager treats the lads like human beings. His man-management is second to none and he has total authority and respect.
"You can have a laugh and a joke with him but you know there's a line you can't cross.
"He's a winner and he transfers that to the players. You know what he expects.
"He makes it really simple... like he says, it's not rocket science. Keep hold of the little white thing, he says, and put it in the back of the net.
"He lets every man know what he wants him to do and the lads respect him for that."