Ambrosini's future uncertain
AC Milan's Massimo Ambrosini admits he would like to remain at the club when his contract expires.
By Simone Bargellini
Last Updated: 06/05/11 2:42pm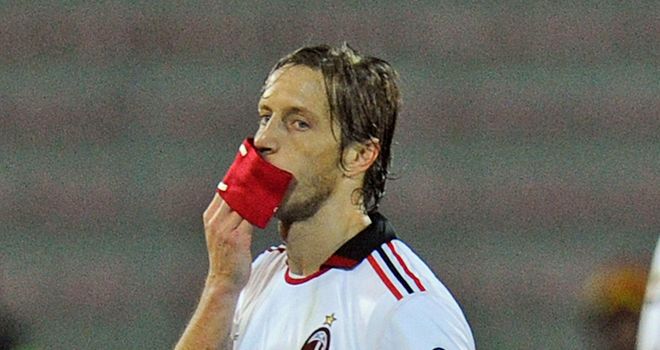 AC Milan captain Massimo Ambrosini has admitted he would like to remain at the club when his contract expires in the summer.
The 33-year-old has been at the club since he was signed as a teenager and has won both domestic and European honours.
His present deal is set to run out in June and, as of yet, the club have not put forward a contract to extend his stay at the San Siro.
For Ambrosini, however, there is no question of what he would like to happen, telling La Gazzetta dello Sport: "If it was up to me, I would stay.
Waiting
"For now, I'm waiting like everyone else as I didn't think the club would wait so long before they clarified the situation."
The former Italy international is one of a clutch of players who are out of contract this summer but he feels slightly aggrieved at the length of time it has taken the club to sort out new deals.
"Maybe they decided to behave in this way because there are so many players out of contract, but I think everyone has a right to clarity," he added.
Milan have always held onto their experienced players and their skipper maintains they are only asking for contracts to reflect their status as senior professionals.
"I think that each of us has the maturity to understand what he deserves, we are not 22-year-olds and we are not cocky. We know how these things work."