Parker prepared to 'fight'
Footballer of the Year Scott Parker is planning on playing a leading role in West Ham's survival bid.
By Chris Burton
Last Updated: 07/05/11 11:32am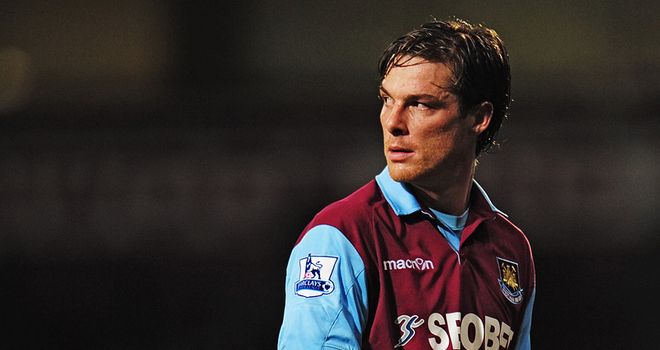 Footballer of the Year Scott Parker is planning on playing a leading role in West Ham's survival bid.
The midfielder is still struggling with ankle and Achilles problems, but is prepared to put his body on the line for the good of the cause.
With the Hammers languishing at the foot of the Premier League table, risks will need to be taken in their final three fixtures.
That means asking Parker to play through the pain barrier and add his considerable presence to Avram Grant's starting XI.
Saturday's crucial home date with Blackburn may come too soon for the England international, but he is expecting to be back in the heat of battle for crunch clashes with Wigan and Sunderland.
"I think I'm probably touch and go for the weekend but I should be fine for Wigan," Parker told the Daily Mail.
"But because of the pressure the club's under we're trying everything we possibly can.
"It's very nice to get the personal accolades but, as I've said before, if I'm driving home after the last game of the season and we've been relegated it will all count for nothing.
"At the end of the day it's a team game and I'm part of a team, part of a squad and if we get relegated I'm part of that, too.
"It's why we all have to fight, because when a team gets relegated it affects everyone at the club; the people who can't decide things on the pitch; who have to rely on us to do that for them."
Chances
Parker has led by example for the Hammers this season and has seen his efforts rewarded with the FWA Player of the Year award and a recall to the England squad.
He believes he has had to work harder than most to earn international recognition, with his five caps to date having been spread over eight years and with four different clubs.
Parker said: "I don't think I'm any different to the player I was last season. I'm exactly the same. I was obviously playing some good football last season because I went to Austria [for a pre-World Cup training camp].
"But at that moment in time there were clearly players ahead of me. In football you always need your chance to come. And this year, with a few injuries, I have been given another chance.
"Throughout my career I've noticed that when I get a chance I need to take it. Some players I've seen over the years, get time to breathe a bit. I can't explain why but I don't think I've ever been afforded that luxury. I broke into the first team at Charlton at 16, didn't really take my chance and went missing for the best part of four years.
"With England it had been the same and I'm sure, had it not gone well for me against Wales [in March], you never would have seen me in an England shirt again. It sounds harsh but I certainly felt that was the reality. To be honest, I thought after the whole experience in Austria it was unlikely I'd ever get another chance."