Harry keeps faith with Gomes
Harry Redknapp insists he has never thought about selling Spurs keeper Heurelho Gomes in the summer.
Last Updated: 07/05/11 12:56pm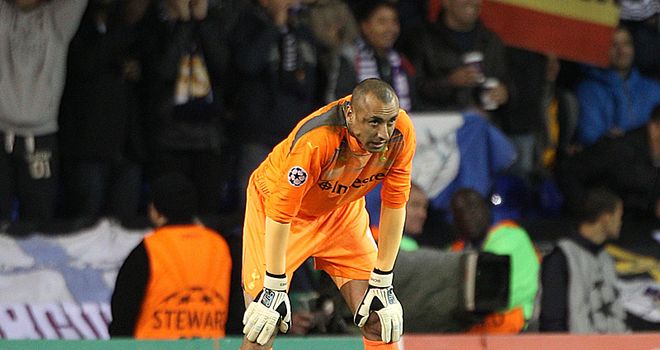 Harry Redknapp insists he has never thought about selling Tottenham Hotspur goalkeeper Heurelho Gomes in the summer.
Gomes had trouble convincing the White Hart Lane faithful that he deserved to be Spurs' No.1 after his first season at the club was blighted by a series of howlers following his 2008 arrival from PSV Eindhoven.
The Brazilian quickly improved his performances, but a couple of mistakes in recent weeks when spilling shots from Cristiano Ronaldo and Frank Lampard have led to renewed doubts about his future.
However, Redknapp is confident that the 30-year-old will bounce back from his latest clanger and says he has no plans to replace him with another keeper next season.
Great character
"I've never thought about getting rid of him," said Redknapp.
"He is a great character, a lovely man, a fantastic fella and a top goalkeeper.
"He made a couple of mistakes but it's up to him now to come through that. He has been fine in training. He has to come out and have a great game."
Redknapp was disappointed to hear Spurs fans ironically cheering Gomes every time he made a save following Lampard's strike at Stamford Bridge, and he does not want the same thing to happen when his team take on Blackpool at White Hart Lane.
"He needs the crowd to support him," added Redknapp.
"I don't want to hear ironic cheers when he makes his first save. It doesn't help his confidence or the team. It doesn't help anyone.
"The fans were fantastic here with Crouchy in the game after he got sent off. We need them to back Gomes. We need everyone to stick with him now and not just suddenly turn on him.
"We don't need it. It doesn't help us. It makes everyone edgy."