Williams admits Premier lure
Rhys Williams has confirmed that he would be interested in a move to the Premier League this summer.
By Edwin Chong & Graeme Bailey
Last Updated: 07/05/11 2:21pm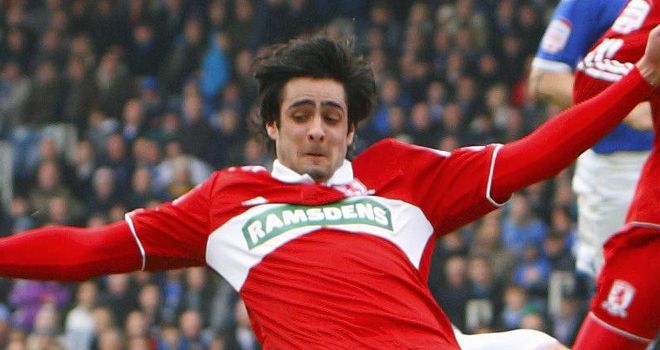 Middlesbrough's Rhys Williams has confirmed that he would be interested in a move to the Premier League this summer.
Bolton are leading the chase for the versatile Australian, who is at home in defence and midfield.
Boro are hopeful of keeping Williams and skysports.com understands they have held talks about a contract extension.
However, Williams admits he is flattered by the interest from Bolton which was confirmed by their boss Owen Coyle earlier this week.
"If a Premier League club comes in for me, of course I'd have to be keen to listen to what they have to say," he told Australian Four-Four-Two.
"I've never played in the Premiership and it's always been my dream.
"I've heard nothing from either Middlesbrough or Bolton but I've seen what's been in the papers and if the chance came to make a move to Bolton I'd have to be silly not to be interested.
"I know Owen Coyle well and I have a lot of respect for him.
"I like the way he operates as a coach and the style of football his teams play and he knows and understands me well as a player.
"If the right move comes along and it's right for the club, myself and my career then it'd be the way forward.
"My future lies in the hands of Middlesbrough Football Club. Whether they want to keep me or sell me, it's their choice and time will tell.
"I don't know how true everything is right now. I'm not even sure if the club have said anything because they haven't spoken to me about anything.
"Time will tell, if it's true then obviously I'm delighted for people to be interested in me."
Boro stay?
Boro boss Tony Mowbray, who has already admitted he would have to sell before buying this summer, insists he wants to keep Williams.
"Owen obviously knows Rhys from his time at Burnley and he has a good relationship with this club, having taken David Wheater (to Bolton)," he told the club's official website.
"He is a man of integrity and he's fully aware of the situation with Rhys, who has a good few years left on his deal. There's no urgency to sell him, so we can put that one to bed.
"It's good that people are eyeing our players. We should never be afraid of people enquiring about our footballers - it shows we have got some talent. The secret is to have them on decent contracts, to keep them happy and to encourage them.
"Hopefully the scenario will be we keep the ones we think it's right to keep, the ones we want to build a team round. Some players' salary levels dictate that we have to listen to offers and others don't.
"Rhys comes into that (latter) category and he's shown versatility and great quality in every position we've asked him to play since he came back from injury. I'm pretty sure that next season he'll be here."