Boss eyes Odemwingie talks
West Brom boss Roy Hodgson is confident the club will open talks over a new contract with Peter Odemwingie.
By Graeme Bailey - Follow me on Twitter @graemebailey
Last Updated: 08/05/11 10:19am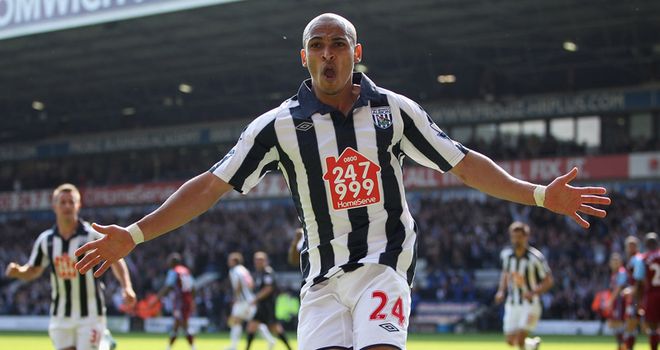 West Brom boss Roy Hodgson is confident that the club will open talks over a new contract with leading scorer Peter Odemwingie.
The Nigerian international has made a huge impact following his summer move to the Hawthorns, with 14 goals notched so far this term.
Odemwingie has a year left on his current deal with an option for a further 12-months, but Hodgson is hoping a new contract is in the offing.
"I'm pretty sure the club would be prepared to discuss an extension of Peter's contract," said Hodgson.
"It would surprise me if they aren't. If that happens, it would be deserved.
"The chairman (Jermey Peace) works here in a sensible way. He rewards success and he rewards people for doing a bit extra."
First-choice
Hodgson admits Odemwingie was not his first choice striker when he arrived at the club after going through a lean spell.
"I left Peter out of a couple of the early games which I suppose was never going to endear him to me," he added.
"He wasn't scoring at the time, people were beginning to doubt his ability and that was shining through a little bit in terms of his attitude throughout.
"That's what front players are like. They are moody people. When they are scoring goals, the world is a beautiful place.
"When they stop scoring goals, everything is wrong with the world and it is everyone's fault except their own.
"That's the way they operate as a breed.
"He was perfectly okay but certainly the way he has been recently, he has been much more upbeat recently which you would expect because he has been doing so well."
Harder
Hodgson admits his top striker will find it harder next season.
"It will be harder for him next season. In the first season you get a bit of freedom in the sense that people tend to be more generous in their judgement of you in the first season," he continued.
"If you do well, they praise you to the skies and if you don't do that, they are still quite enthusiastic about your performance.
"But then suddenly you get a reputation as a good player and every time you fall even a jot below that people start asking questions - what's wrong with him, why he is not doing this, that and the other.
"You have to be strong in your second and third years in particular to make certain people realise you are not a flash in the pan, that the talent you have got is a real talent.
"He has talent and that's always going to endure because quality is what will keep people in their jobs."