De Jong - An unnecessary loss
Nigel de Jong has expressed frustration at Manchester City's defeat to Everton.
Last Updated: 08/05/11 3:58pm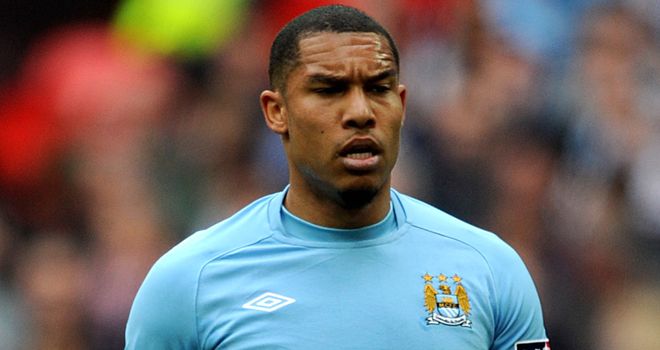 Nigel de Jong has expressed frustration at Manchester City's defeat to Everton and called on his team-mates to bounce back against Tottenham in midweek.
City controlled the early stages of Saturday's clash at Goodison Park and took the lead through Yaya Toure before half-time.
However, Everton hit back after the interval as goals from Sylvain Distin and Leon Osman condemned Roberto Mancini's men to a 2-1 loss.
The result was a blow to City's hopes of securing UEFA Champions League qualification with two weeks of the season to spare, although Tottenham later failed to take full advantage as they drew with Blackpool.
De Jong reflected: "Nobody likes to lose a game, especially a game like this - it was an unnecessary loss.
"We dominated the first half but didn't create that second goal.
"We knew it was going to be a hard afternoon with the crowd behind them, so we just have to learn from this one and focus on the other games.
"It is a very important week for the club, for the fans and all the squad as well."
Do or die
City currently have a six-point cushion over Spurs in the race for fourth place and a far healthier goal difference, while there are only three Premier League matches still to play.
However, Tottenham travel to Eastlands on Tuesday and a victory would keep them in contention for a second straight tilt at Europe's premier club competition.
City could be forgiven for thinking ahead to next weekend's FA Cup final against Stoke but De Jong is aware of how important it is to remain focused on the next challenge.
"It is do or die at the moment for Manchester City," said the Dutchman.
"Fourth place is in reach. We just have to win the game and then the next game (after that) is going to mean everything as well - we have the chance to win the FA Cup after 35 years.
"It is going to be a big week and we all have to be positive.
"It was a collective failure (against Everton). You can't really single somebody out.
"With the amount of possession we were quite strong and we had a good chance with Yaya to score his second one.
"They came back at us after that and scored two goals in the space of 10 minutes. It is a pity but we have to keep focused.
"We have got everything in our hands still.
"It was our own mistakes, now we have to focus and get the three points against Tottenham."