Vidic puts party on hold
Nemanja Vidic will only allow Man United's title party to begin when he has lifted the trophy.
Last Updated: 09/05/11 6:40pm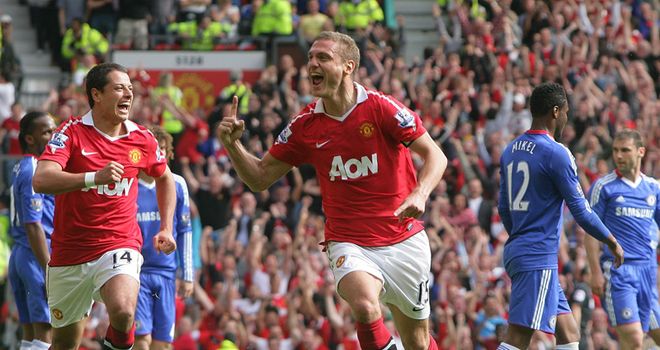 Nemanja Vidic will only allow Manchester United's title party to begin when he has lifted the Premier League trophy.
Vidic scored United's second goal as they beat Chelsea 2-1 on Sunday, which means the Blues can now only catch United on goal difference.
Vidic has urged United to put themselves out of Chelsea's reach at Blackburn on Saturday and secure a record 19th league championship.
And while a point would be enough for the Red Devils, their Serbian centre-half insists they will not be settling for a draw.
"We will only start to celebrate when we have the trophy," said the United skipper.
"A big part of the job is done but it is not finished. We still have to perform at Blackburn.
"A draw would be enough but Manchester United do not play like that," Vidic added. "We always try to win and Saturday will be no different.
Blackburn threat
"We know Blackburn are a good side on their own ground. We drew there last year.
"They are strong so we will have one week to prepare if we are to win the league."
United are set to finish the season with the least number of away wins in any title triumph since Liverpool in 1977.
Some observers thought that record on the road could eventually cost them the title but Vidic feels United's home record shows United are worthy winners.
Sir Alex Ferguson's men have dropped just two points at Old Trafford all season with just Blackpool to come on the final day.
"No-one could say we were a bad team if we were to win a trophy," Vidic said.
"We listen to what people say but we don't think much about it. We just try to focus on ourselves.
Target
"We know what our target is and we are nearly there. If we reach it, that will prove to everyone we are a good team.
"I am trying to be focused but I am thinking about lifting the trophy as well," he added.
"To be the captain of Manchester United in this situation is a big honour."