Fletcher set three-match test
Man United's Darren Fletcher has three matches to prove his fitness for the Champions League final.
Last Updated: 11/05/11 8:33am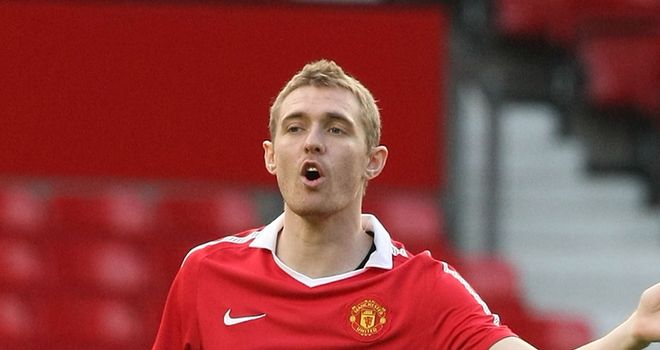 Manchester United manager Sir Alex Ferguson is offering 'big-game player' Darren Fletcher three matches to prove his fitness before the UEFA Champions League final against Barcelona.
The Scotland international returned to training two weeks ago after missing 15 United matches due to a stomach virus and he is still in a race against time to feature at Wembley.
Fletcher, who was suspended for the 2009 Champions League final defeat to Barcelona, recently played 20 minutes against Schalke, but he is still not 100 per cent ready after losing a stone in weight during his illness.
Ferguson is therefore offering the midfielder the chance to prove his fitness in United's Premier League games against Blackpool, Blackburn, and in Gary Neville's testimonial.
United's manager said in the Daily Express: "Darren has put the weight back on and is back in training, but he has a bit to do yet. But, as far as the final is concerned, there is almost three weeks to achieve that.
"If he does reach the target, it will be a big boost to us as we all know he is big-game player.
Problem
"The 20 minutes he got against Schalke last week was certainly a step forward. His training, in terms of sharpness for such an important game, will be stepped up now.
"We have the Blackburn and Blackpool matches plus Gary Neville's testimonial, so there is game-time there to help him."
Fletcher, who is usually favoured by Ferguson in important matches, has admitted his frustration at his lengthy absence.
"It was just a bad virus, one of those things you can't really prepare for," he said. "But I hadn't foreseen the weight loss that came with it and that was the real problem.
"I couldn't come back into training until I'd put a good bit of that back on. Instead of two weeks, it ended up being more like five, but I'm feeling much better now.
"Often when you are injured you still come to the training ground every day - you're in the gym, doing your rehabilitation and you're seeing the lads. With this virus I didn't feel part of it at all."