Fletcher set to face Rovers
Darren Fletcher is in line to feature for Man Utd against Blackburn after a run-out for the reserves.
Last Updated: 12/05/11 8:55am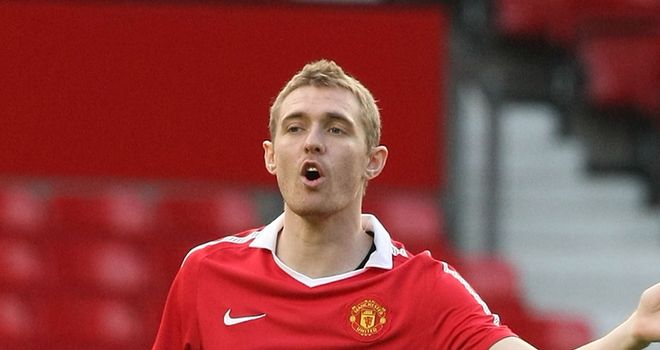 Darren Fletcher was happy to take in a run-out for the reserves ahead of playing a part in Manchester United's game at Blackburn Rovers on Saturday.
The midfielder recently spent two months on the sidelines due to a virus before returning as a substitute in last week's UEFA Champions League semi-final against Schalke.
He is viewed as a vital part of Sir Alex Ferguson's plans for the Wembley final against Barcelona later this month and has been set a three-game challenge to prove his fitness.
The first of those matches comes against Blackburn on Saturday when a point at Ewood Park will confirm United as champions for a record 19th time.
The final Premier League game of the season against Blackpool and Gary Neville's testimonial against Juventus have also been earmarked as opportunities for Fletcher to build up his fitness.
Job to do
The Scotland captain featured against Blackburn's reserves on Wednesday and is now focused on the senior meeting between the two clubs at the weekend.
"We still have to get that point," Fletcher told MUTV.
"We still have a job to do. The Chelsea result has set us up but we want to win the match."
Fletcher reported no ill-effects from his latest outing, although his disappointment at a 2-1 defeat which has cost United their chance to clinch the overall reserve league title was obvious.
"Minutes on the pitch are important," he admitted. "But I am disappointed with the result.
"As a first-team player I was wanting to put in a good shift for them and I am disappointed as everyone else by the outcome."