McCarthy unfazed by United talk
Wolves boss Mick McCarthy will have no issues with Man United if they field a weakened side against Blackpool.
By Graeme Bailey - Follow me on Twitter @graemebailey
Last Updated: 12/05/11 8:06pm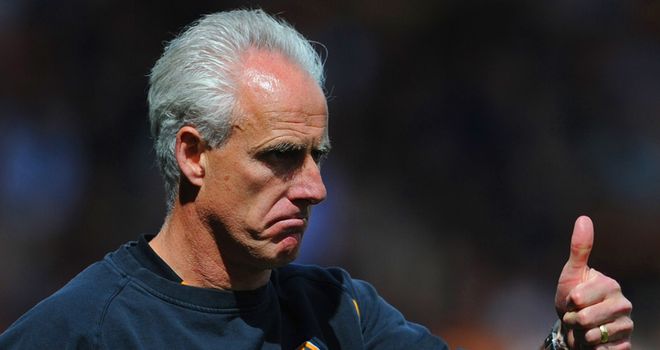 Wolves boss Mick McCarthy insists he will have no issues with Manchester United if they field a weakened side against Blackpool next week.
United only need a point against Blackburn this weekend to claim the Premier League title.
That would then leave Sir Alex Ferguson the option of resting key players against relegation-threatened Blackpool ahead of the UEFA Champions League final.
The United chief has done the same against West Ham and Hull City on the final day of previous league campaigns and it could impact on Wolves' own battle for top-flight survival.
Wolves were handed a suspended fine after fielding a changed side at Old Trafford last season and Blackpool were fined during the current campaign for a similar action away to Aston Villa.
Bothered
But McCarthy said: "I'm not bothered. I can't do anything about it. United beat Schalke in the Champions League with a weakened team. They slapped four past them.
"I don't know if Manchester United have got a weak team to be honest. It doesn't bother me.
"I doubt very much Alex will want to lose any games at home. Sorry, what a stupid statement. I know he won't want to lose any games at home.
"They are unbeaten and he won't want that to change. He will, I am sure, play a team that will win the game.
"I can't do anything about it. If anyone is thinking I've got an axe to grind about it, no I haven't. I've no axe to grind.
"You pick your team as you seem fit."
McCarthy knows any such matters will be irrelevant if Wolves gain positive results against Sunderland and Blackburn in their final two matches.
"We need to win our games, we need to get our points, and if we get our points, there is nobody or nothing that can do anything about it.
"Let me concentrate on that and not be worried what Wigan, West Ham, Birmingham and all the others are doing.
"If we get our points, they can do just as they please and it's not going to bother me one iota.
"I'm not going to stick my nose in anyone else's business because if ever they stick it in mine they generally get a short sharp one in return."
Striker Kevin Doyle is back in the squad after eight weeks out with knee ligament damage, but McCarthy is refusing to say whether the Republic of Ireland player will return to the starting line-up.
"Doyley is back, he is training, he is fine," he said.
"But in terms of whether he plays or not, I'm not going to put any meat on the bones at all. You can speculate all you like."
Jarvis
McCarthy also insists he did not axe winger Matt Jarvis last weekend and has tipped him as a major contender for the club's player of the year award.
McCarthy is adamant he rested Jarvis for last weekend's derby clash with West Brom at Molineux after a demanding season.
But he still believes the 24-year-old has been one of his side's top performers throughout the campaign.
McCarthy said: "'Jarvo' has had a great season, he's been fantastic.
"He's more than a contender for player of the season.
"But he's like everyone else. You can't just perform on the pitch every weekend.
"Because I am loyal to players and stay with them through difficult times and difficult performances, why is it then said that I've dropped them?
"With others it's called 'squad rotation' where players are left out because they're a little bit tired and need a rest.
"Because I'm very loyal to players it seems when I do it it's taken as an exception.
"Some players have played a lot of games and it's a tough old league. Everybody's time will come again."