Whelan relishing City clash
Stoke star Glenn Whelan is relishing facing former club Manchester City in the FA Cup final on Saturday.
By Graeme Bailey - Follow me on Twitter @graemebailey
Last Updated: 13/05/11 9:08am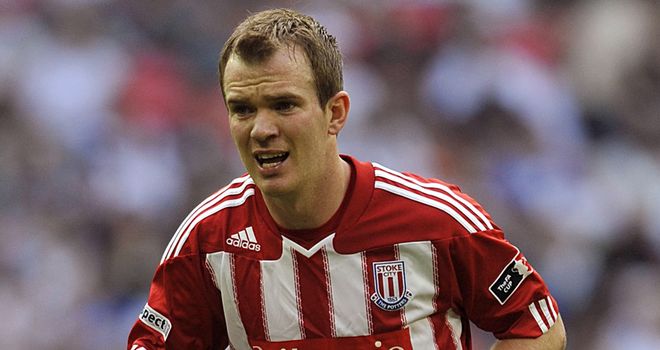 Stoke star Glenn Whelan is relishing facing former club Manchester City in the FA Cup final on Saturday.
Irish midfielder Whelan started his career with City as a 15-year-old - but he was released by then manager Kevin Keegan without making his first-team debut.
Whelan went on to join Sheffield Wednesday before moving to Stoke, where he has established himself as a Premier League player.
Now he faces Man City at Wembley and he is relishing the prospect.
"Kevin Keegan was manager at the time. I'd been out on loan and there was interest from a couple of clubs about possibly taking me," the 27-year-old remembers.
"To be fair, Kevin Keegan was honest. He came to me and said, 'Listen, I don't think you're going to play in the first team, you should sit down and speak to people'.
"Luckily for me, Sheffield Wednesday was one of the clubs. It was probably the best thing to happen to me."
At Wednesday, Whelan was not just a first-team regular but a stand-out performer, establishing himself as a central cog with an eye for goal.
In January 2008, Stoke forked out £500,000 for the midfielder and six months later he found himself in the Premier League.
Whelan has had to bide his time, frequently starting games on the bench, but he has taken his chance after winning back his place in February.
No hard feelings
The Dubliner insists there are no hard feelings with City, saying: "Not at all. I'd like to thank everyone who was there because they made me the player I am now.
"I possibly could have stayed and played in the reserves for another year but who's to say those chances would have come round again.
"I don't want to look back and say I'd change anything. I'm glad where I am now and I thank everyone who's helped me along the way."
The club that Whelan left in 2004 has been transformed in the intervening seven years, with Roberto Mancini now presiding over one of the most expensive squads ever assembled.
City have already qualified for the UEFA Champions League for the first time and Whelan expects that to be just the start - although he feels their underdog status is something Stoke can use to their advantage on Saturday.
"Especially over the last few years it's been a massive change at City and I'm sure in a couple of years they'll definitely be one of the title contenders," he said.
"It's something we enjoy, going into games where we're the underdogs. You're going up against world-class players and trying to do the best you can against them, and that maybe gives us a little bit of an incentive."
The Potters certainly have good memories of Wembley after thrashing Bolton 5-0 in the semi-finals to reach their first FA Cup showpiece.
It is a result and a performance Whelan hopes will go some way to shaking off Stoke's negative image.
He added: "The semi-final was unbelievable. The best thing about it was when we drove in on the bus, all we could see was Stoke fans so we knew they'd turned up in their numbers.
"I don't think anyone could have imagined winning 5-0 but on the day everything clicked for us. People talked about Bolton not having turned up but I think if they had turned up there was still only going to be one winner.
"Not many people have won 5-0 at Wembley and if you're only a long-ball team you couldn't do that. Hopefully we've changed a few people's minds but if we haven't then just keep going about our business the way we normally do."