Grant - Parker an example
Avram Grant believes West Ham midfielder Scott Parker is the perfect example for young footballers.
Last Updated: 13/05/11 10:47am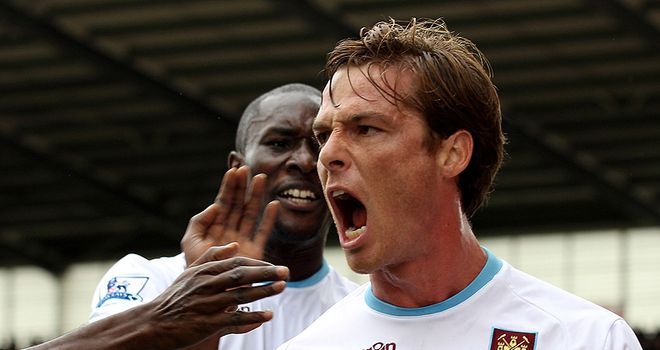 Avram Grant believes West Ham United midfielder Scott Parker is the perfect example for young footballers to learn from.
Parker has been the heartbeat of the West Ham team this season and his performances were recognised with the FWA Footballer of the Year award.
He is hoping to return from injury for the Hammers' crucial relegation battle against Wigan Athletic on Sunday and Grant has heaped praise upon the England international.
"Scott's mentality is perfect. But we should not forget that he is an excellent footballer," said the West Ham manager.
"He is a modern midfielder. He defends, he makes a block, he wins the ball.
Determined
"He is determined, his movement is excellent and he scores important goals inside and outside the box.
"I am glad that his quality has been recognised by Fabio Capello, as well as by the football writers.
"I always say to young players that they must be careful when they chose who to take as examples. I can think of no-one better than Scott Parker."
Grant also feels that Parker's success as Footballer of the Year sends out an important message after he became only the second West Ham player to win the award.
"I am very pleased that the members of the Football Writers' Association have chosen to honour Scott Parker," added Grant. "Not just because I think he deserves it, but because it send a very important message.
"People assume players in teams at the top of the league are all winners. It is not true.
"When you are surrounded by quality and confidence is high, it is easier to reach a good level of performance. You only see the true character of a person in times of difficulty.
"And, as you may have noticed, we at West Ham have faced a lot of challenges right from the start of the season.
"What Scott has done for us as a footballer and as a person is great. It is harder and harder to find players like him in the modern game, men who are professional unconditionally, no matter the situation, who do not become moody and sulk."