Capaldi happy with Oxford move
Tony Capaldi is hoping to get his career back on track after signing a two-year deal with Oxford.
By Ben Collins
Last Updated: 13/05/11 10:52am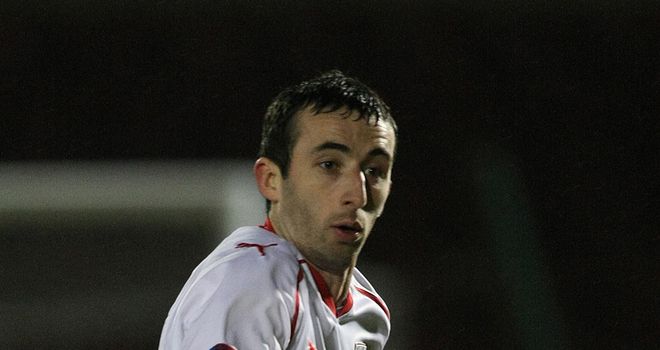 Tony Capaldi is hoping to get his career back on track after signing a two-year deal with Oxford United.
The 29-year-old left-back was out of contract at Morecambe and has had a difficult time since his deal ran out at Cardiff last summer.
The former Northern Ireland international turned down offers from League One sides early in the summer as he was hoping to stay in the Championship but was unable to secure a deal and, when the season started, he was without a club.
Morecambe offered him a short-term deal in September, which was extended in January, and Capaldi made 18 appearances in a Shrimps side that finished 21st in League Two.
But, once the season was over, Oxford were quick to put an offer on the table and Capaldi showed he has learned his lesson from last year by committing himself to Chris Wilder's side until 2013.
Security
"I'm not in my early 20s now and, as you get a bit older, it's nice to get a bit more security in a contract," he told skysports.com.
"I'm just pleased to get everything sorted early after the nightmare summer I had last year. I didn't want to hang about and go through trials again, I just wanted to get something tied up.
"I get married in a few weeks so I can relax now, enjoy that, and then get myself ready for pre-season."
Even after signing for Morecambe last year Capaldi felt he was never fully fit having not had a proper pre-season and he left the club under a cloud due to comments he made on Twitter.
"It got to the stage that I was missing too much football but Morecambe gave me a chance to go and play, and I'm very grateful to them for that," said Capaldi.
"It wasn't the most enjoyable experience of my career but I just want to put it behind me now, focus on getting back to playing and hopefully enjoy some success at Oxford."
Better set-up
Capaldi was in the Morecambe side that lost 3-0 at home to Oxford in February and the Us held eventual champions Chesterfield to a 0-0 draw last month before finishing 12th in their first season back in the League.
"They're a better set-up than Morecambe, to be fair, and it's nearer than Morecambe," said the Birmingham-based defender.
"When I played against them with Morecambe they battered us and I watched them against Chesterfield the other week and they were brilliant.
"They've had games like that this season but they must have been inconsistent, otherwise they would have got promoted. Hopefully we can build on that and get some better results next season.
"After missing so much last summer I need a good pre-season to get myself sorted, then I'm just hoping to enjoy my football again."