Pardew expects Tiote sulk
Alan Pardew expects Cheick Tiote to be sulking on the sidelines after electing not risk a further ban.
Last Updated: 13/05/11 3:28pm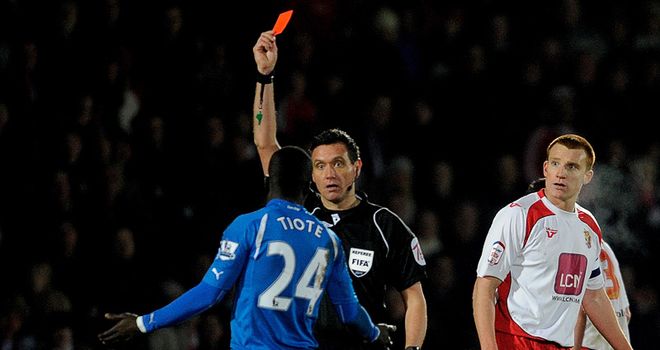 Alan Pardew expects Cheick Tiote to be sulking on the sidelines after electing not to risk a further suspension for the tough-tackling Newcastle midfielder.
Pardew will not play the Ivory Coast international at Chelsea on Sunday and will almost certainly leave him out of the final day clash with West Brom after he collected his 14th booking of the season against Birmingham last weekend.
A 15th would land the former FC Twente player a fourth ban of the campaign - he has already missed six games, five of them under his current boss - and rule him out of the start of the new season.
Tiote was desperate to play against the Blues - he has previously spoken of his admiration for Ghana international Michael Essien - but Pardew insists he has little choice but to leave him out.
Sulk
The manager said: "He wants to play. He's not happy and he will probably go home and sulk this afternoon.
"No one is more disappointed than me. I love the boy and I want him to play, but I can't afford to miss him for two games next year, I just can't.
"He misses this one and he will probably miss West Brom - that will be eight games for me and I can't afford that.
"We have had Hatem (Ben Arfa) out all year and we lost Andy Carroll, so to have Cheick missing for eight games is a hell of a handicap to carry, and we have done it really, really well as a group. We have been terrific.
"But at some point, you need your best players on the pitch and he is one of my best players. That's something we have definitely got to sort out next year."
Tiote's disciplinary record has been the only negative of a hugely successful first season in English football, and while Pardew believes he has been unfortunate at times, he knows that is something he cannot allow to continue.
Adjust
He said: "It's fairly obvious that we need to correct that next year, and that's something I have talked to him about this week.
"I will talk to him again before he goes away for the summer. He can't take 14 bookings in a season.
"He has been unlucky a couple of times, but unfortunately, that isn't going to wear.
"Referees need to get used to the fact that he is competitive and he is strong in the challenge because four of five of his bookings have just been strong, strong challenges that perhaps if you understood the player, you would know there was nothing wrong with them, they were just good physical challenges.
"There's a situation where he needs to adjust, and also the familiarity with the way he plays will allow referees to understand he is a fair player.
"In terms of his tackling this year, he hasn't hurt anybody or looked to hurt anybody. He's just not that type."